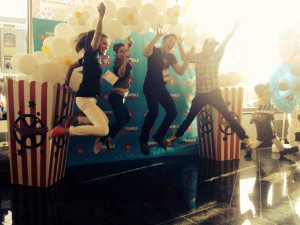 To kick off our blog we'd like to introduce our organization, the Utah Film Center. We are a nonprofit that believes in building community through the power of film and we're excited (and a tad nervous) to begin blogging. Please visit every week for new posts and let us know how we're doing, we value your input.
Here it goes…
So, have you been to one of our screenings before? The Utah Film Center show films EVERY WEEK. We're probably most well known for showing films every Tuesday evening at the Salt Lake City Library, however we show films at other venues in Salt Lake City, as well as throughout the entire state of Utah. Here at the Utah Film Center, we believe the best things in life are free so we offer over 90% of our programming to the public FREE OF CHARGE.
If you're already familiar with us, did you know that we're not limited to just showing films? Our goal is bigger—we bring the world of film to audiences through free community screenings and discussions, outreach programs, and visiting artists and professionals. We emphasize social content and artistic excellence, we present the best documentary, independent, and dramatic cinema year-round—so join us! We also collaborate with various educational and community organizations to promote a diversity of ideas, to provide forums for underrepresented groups, and to develop new audiences for film.
By living by our mission and by collaborating with various community organizations, we reach over 38,000 film lovers annually. Among others, our collaborators include the University of Utah, the Natural History Museum of Utah, KUER, and the Sundance Institute. The film content we present includes a wide variety of topics ranging from science and art, to civil rights and environmental issues.
In addition to our free weekly screenings, we curate and organize two annual film festivals. The Tumbleweeds Film Festival for Children and Youth is the only festival of its kind in the Intermountain West catering to our community's youngest moviegoers. Fostering the next generation of filmmakers and film fans, Tumbleweeds features the best independent, documentary, and foreign feature-length films and short film. Committed to presenting films with high production and storytelling values, Tumbleweeds aims to inspire creativity in the three-day festival format, which includes multiple school field trip screenings, film workshops for children, and over 18 screenings for families. Additionally, by partnering with SHIFT, we have expanded our reach by offering local teachers the opportunity to participate in media arts workshops that support core curriculum requirements and tie directly into the festival screenings.
Our other film festival, Damn These Heels (DTH), was the Utah Film Center's first festival. Since it premiered DTH has grown into our longest running annual program. The festival provides a forum in which LGBT issues, ideas, hopes, dreams, and art are explored through film and discussion. Like Tumbleweeds, DTH has expanded to include monthly year-around screenings.
If you're interested in learning more please attend our free screenings, festivals, and events. Our staff would love to meet you and/or get to know you better. You can also connect with us on Facebook, twitter, and Instagram.
Thanks for your support!