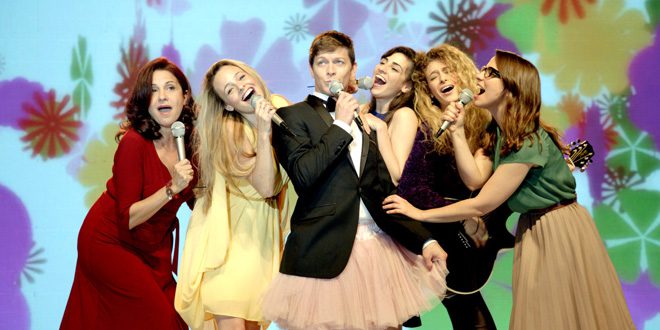 CUPCAKES
Directed by Eytan Fox
90 min | 2013 | Israel | Not Rated
Presented in English, Hebrew, and French with English subtitles.
Whoever said that too much sugar is a bad thing has never seen Cupcakes. This lively musical romp, filled with a healthy dose of acceptance and love, is sure to satisfy your cinematic sweet tooth.
Playing on the world's penchant for reality singing competitions, Cupcakes brings together six quirky friends as they gather to watch Universong, a fictional European singing competition. When Anat is dumped by her husband, her five friends band together to lift her spirits with a spontaneous ditty.
After a cell phone recording of their song goes viral, the group of friends is selected by the Universong judges to represent Israel in the next competition. The eccentric sextet includes Anat (a successful baker), Dana (a reluctant political aide), Efrat (a struggling singer/songwriter), Keren (an introverted blogger), Ofer (a confident kindergarten teacher who sings to his classes in drag), and Yael (a beauty queen turned lawyer). All of them are about to embark on a once-in-a-lifetime journey.
Buoyed by a catchy soundtrack and endearing cast, Cupcakes will have you humming the group's signature song while smiling from ear to ear. This film's celebratory message is just the right amount of sweet.
Official Selection: 2014 Frameline38 San Francisco International LGBT Film Festival
Date Theatre Buy Tickets
Saturday, July 12 Black Box inside the Rose Wagner 11:30 am