The Utah Film Center is launching a new film series by women directors from around the world representing the lives and stories of women on September 11, 2014 entitled Women's Stories. The feature films included in the series highlight the accomplishments of women working in the film industry, while focusing and reflecting on issues and struggles that women continue to face daily, including the ongoing need for education and empowerment of their gender. Each film offers an opportunity to increase awareness, engagement, and advocacy around these critical issues facing women and girls in local communities and around the world.
Prior to each screening, the Film Center will host a private reception for Utah Film Center members and invited community leaders to connect and network over food and beverages, and following each film 90.9FM KRCL midday host Eugenie Hero Jaffe will moderate a Q&A with the filmmaker, or a panel discussion illuminating the issues introduced by the film highlighting actions for social change.
All films begin at 7pm and are free and open to the public.
Thursday, September 11 | 7pm | Rose Wagner Performing Arts Center
WONDER WOMEN! The Untold Stories of American Superheroines
Directed by Kristy Guevara-Flanagan
62 min | 2012 | USA | Not Rated
*Director Kristy Guevara-Flanagan will be in attendance for a post-film Q&A.
WONDER WOMEN! The Untold Story Of American Superheroines traces the fascinating birth, evolution, and legacy of Wonder Woman and introduces audiences to a dynamic group of fictional and real-life superheroines.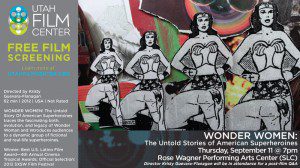 Wednesday, October 22 | 7pm | The City Library
Brave Miss World
Directed by Cecilia Peck
88 min | 2013 | USA | Not Rated
*A moderated discussion will immediately follow the film.
On an official visit to Italy prior to entering the Miss World Pageant, Linor Abargil was raped by a man who was supposed to be protecting her. Mere weeks later, Linor was crowned Miss World, her dream of wearing the crown clouded by the trauma of the violence she endured. Cecilia Peck's Brave Miss World follows Linor's decision to speak out about her rape after ten years, and gives voice to her ongoing process of healing. Following her journey as she meets with other survivors around the world, Peck unveils the terrible truth of the global epidemic of sexual violence against women.
Thursday, November 13 | 7pm | Rose Wagner Performing Arts Center
She's Beautiful When She's Angry
Directed by Mary Dore & Nancy Kennedy
87 min | 2013 | USA
*A moderated discussion will immediately follow the film.
She's Beautiful When She's Angry resurrects the buried history of the outrageous, often brilliant women who founded the modern women's movement from 1966 to 1972. The film takes viewers from the founding of NOW, to the emergence of more radical factions of women's liberation; from intellectuals like Kate Millett to the street theatrics of WITCH ("Women's International Conspiracy from Hell!"). Artfully combining dramatizations, performance, and archival imagery, the film will recount the stories of women who fought for their own equality, and in the process created a world-wide revolution.
The Women's Stories film series is sponsored Liz Lockette and Dr. Dave Thomas, Planned Parenthood Association of Utah, and 90.9FM KRCL.
Women's Stories partners include the YWCA of Utah, Girl Scouts of Utah, Junior League of Salt Lake City, and Girls on the Run Salt Lake.