Over the last four years, the Utah Film Center has programmed Design Matters, a series of films that celebrate the creative spirit of design and architecture. The series begins on September 16 with the film TELOS: The Fantastic World of Eugene Tssui, a film about maverick architect and eccentric visionary, Eugene Tssui.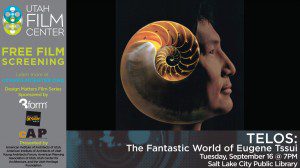 Also this year, as in past years, the Design Matters October film screening coincides with the Salt Lake City chapter of AIGA's (a national professional design association) Salt Lake Design Week, which runs October 13-18.
On October 14, we, along with Design Matters sponsors, 3form, the University of Utah College of Architecture and Planning, and AIGA, present Flake and Flames at the City Library. Flake and Flames is a fantastic adventure through the Kustom Kulture movement around the globe seeking out the hottest Kustom Kulture spots in the United States (US) and Europe.
We invite you to escape from the hustle of the city for a moment to look, perceive, contemplate, and reflect on film, design, and architecture and to take full advantage of the Design Matters series and Salt Lake Design Week—a week-long celebration that highlights the impact design has in our community to advance design as a professional craft, strategic advantage, and vital cultural force.
Tell us, what is your favorite film about design?