The Utah Film Center will present the fourth annual Peek Award for Disability in Film on November 5, 2014 to Jason DaSilva, director of the 2013 Sundance Film Festival feature documentary, When I Walk. The Peek Award generates awareness about media makers who positively impact our society's perception of persons with disabilities.
In 2006, at age 25 Jason DaSilva was diagnosed with multiple sclerosis. His film, When I Walk, is a candid and brave chronicle of his struggle to adapt to the harsh realities of M.S. while holding on to his personal and creative life. With his body growing weaker, DaSilva's spirits, and his film, get a boost from his mother's tough love and the support of Alice Cook, who becomes his wife and filmmaking partner.
Barry Morrow, Academy Award-winning screenwriter of Rain Man, will present the 2014 Peek Award to DaSilva prior to the screening of When I Walk, which will then be followed by a post-film Q&A moderated by RadioWest's Doug Fabrizio.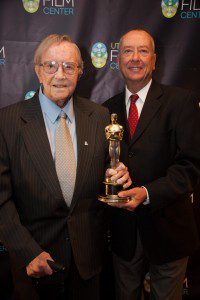 The Peek Award honors the legacy of Kim Peek, the inspiration for the film Rain Man, and pays tribute to artists and media makers who are positively impacting our society's perception of people with disabilities. The Award grew out of the generosity of Barry Morrow, who permanently loaned his Oscar statuette to Salt Lake City in the memory of Kim Peek, the savant about whom Rain Man is based. Kim Peek lived in Salt Lake City and passed away in December 2009.
Previous award recipients include Dr. Temple Grandin, Carrie Fisher, and Sean Fine and Andrea Nix Fine, and Sam Berns.
Wednesday, November 5 | 7pm | Rose Wagner Performing Arts Center
Peek Award for Disability in Film Award Presentation and Film Screening
When I Walk
Directed by Jason DaSilva
85 min | 2013 | USA | Not Rated
*Jason DaSilva will be present for a post-film discussion moderated by RadioWest's Doug Fabrizio.
When I Walk is one man's emotional and inspiring journey during six years of life following his multiple sclerosis diagnosis. For director Jason DaSilva, life's most challenging and joyous moments are yet to come.
Winner: Best Canadian Feature—2013 Hot Docs Canadian Documentary Festival, Audience Award—2013 Vancouver International Film Festival; Official Selection: 2013 Sundance Film Festival
The Peek Award event is free and open to the public—we hope you will join us to show your support of film and to those who illuminate new understandings of those living with disabilities!