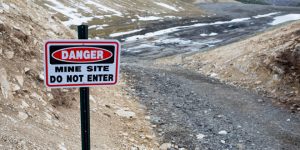 Many of you may remember our screening of LAST RUSH FOR THE WILD WEST: TAR SANDS, OIL SHALE AND THE AMERICAN FRONTIER, which occurred in February 2015 as part of our Environment series. It's always the hope of all involved with Utah Film Center that our films and events ignite people to make positive social change. Recently, Utah Film Center Artistic Director Patrick Hubley received an email from the LAST RUSH filmmaker, Jennifer Ekstrom detailing one such account:
"I will always be grateful to you Geralyn, and Patrick at Utah Film Center, for hosting the February 2015 screening at the Salt Lake library.
At that time the Utah Division of Oil, Gas and Mining (DOGM) had issued preliminary approval for US Oil Sands to expand their initial strip mine, even though they had not yet started commercial production under their previously approved plan. The original strip mine had been approved without an open public process, and the preliminary approval for the expansion had been issued without public input. 
During the Q&A after the [Utah Film Center] screening, John Weisheit (Colorado Riverkeeper) and I were publicly contemplating whether DOGM would consider public input before giving the final approval for the expansion. At that time Steve Adler,  the attorney for DOGM who was in the audience, introduced himself. As part of his comments he said, "and we WILL open up a public process about this issue!" 
He followed through, and after 700 comments were submitted by the Colorado River Connected coalition, DOGM held a public hearing. As a result of the evidence submitted at that hearing, DOGM is now requiring that US Oil Sands develop a groundwater monitoring plan, as well as an air pollution plan that proves they will adhere to the Clean Air Act. NEITHER OF THESE IMPORTANT SAFEGUARDS WERE PREVIOUSLY REQUIRED. 
It is the perfect example of a film having impact, and that citizen involvement matters. While I cannot say for certain, it's quite possible that none of this would have happened without the Utah Film Center screening!
And while the monitoring requirements are undoubtedly positive, the only real victory will be a national policy to keep tar sands and oil shale in the ground.
There are new and very exciting opportunities coming up to utilize the film to address this issue in a more robust fashion! I will keep you posted as the possibilities and plan becomes more clear. But in the meantime, if either of you have other ideas for getting the word out, or for additional public screenings throughout the watershed, I would be very interested and appreciative to hear your thoughts!
With my highest regards,
Jennifer Ekstrom
director"
With this victory we are reminded that film does have the power to make positive changes in our world and is a strong and useful medium for social activism. If you have created a healthy change as a result of one of the films you've seen with us, please do share in the comments, or send us an email at info [at] utahfilmcenter [dot] org.
Thank you.