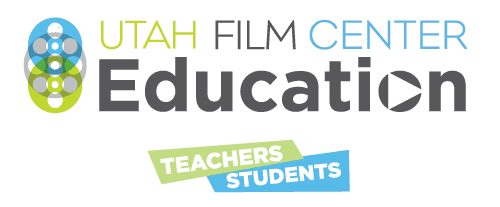 Click here to receive the Education newsletter in your email inbox!
Welcome to the first edition of the Utah Film Center Education E-Newsletter. Our plan is to publish six times per year to keep you informed about all of the inspiring (and FREE!) teacher and student program opportunities happening at Utah Film Center.
Since Utah Film Center merged with SHIFT in June of this year, three distinct film-infused educational programming tracks have been established. Utah Film Center's Education programs introduce students and teachers to the power of film as an instructional resource and are dedicated to enhancing teaching practice and students' media literacy through screenings and discussions, professional development workshops, and classroom presentations that increase student engagement and achievement while also supporting curriculum requirements.
Throughout the school year and summer months, Utah Film Center will offer SHIFT teacher professional development workshops, In Your Classroom presentations titled Behind the Animation and Real to Reel, and Film Festival Fieldtrips leading up to the Tumbleweeds film festival for children and youth.
These educational offerings will be designed and facilitated by Utah Film Center education staff as well as professional, local, and national filmmakers. The staff team is made up of: Director of Education Rick Wray, SHIFT Program Director Suzi Montgomery, Education and Community Programs Manager Mariah Mellus, and Education Coordinator Leslie Means.
Please make sure to modify your email spam filter settings so we don't end up in the "trash," share this newsletter with your colleagues, and we look forward to sharing our innovative programs and impact with you in the months to come.
Warmly,
Rick Wray
Director of Education
Upcoming Opportunities
Teacher Development: February
Student In-classroom: Ongoing
Utah Film Center Education
PROFESSIONAL DEVELOPMENT & IN-CLASSROOM OPPORTUNITIES
The newly-formed Education Department has been active across the state, engaging both students and teachers with filmmaking in the classroom. The instructional team just returned from a successful programming week in the St. George area where they completed a two-day professional development workshop for teachers and also served over 400 students with our Behind the Animation presentations.
Additional professional development workshops were offered in November at the University of Utah, in partnership with the Beverley Taylor Sorenson Arts Learning Program, as well as at the Salt Lake Community College Center for Arts and Media as part of our Adobe Youth Voices and Framed teacher professional development initiatives.
Our next teacher training opportunity will be held in February at Thanksgiving Point, and we're currently booking Behind the Animation and Real to Reel classroom presentations for elementary and middle school classrooms for December through May. For more information visit the education portion of the Film Center website: https://www.utahfilmcenter.org/education
Education News
The Importance of Community Education
Article by Suzi Montgomery
These days my desk sits in the Utah Film Center offices on Main Street in downtown Salt Lake City where I spend my time designing workshops to train public school teachers how to use film-making as a meaningful, in-classroom student engagement strategy.
The Front Line
Adobe Youth Voices News
For the past five years, the SHIFT professional development program has partnered with Adobe Youth Voices (AYV), a global philanthropic initiative of the Adobe Corporation dedicated to bringing creativity and authentic youth produced digital storytelling to educational settings across the globe. To date, SHIFT has trained over 500 Utah educators, impacting over 10,000 students, with the Adobe Youth Voices "create with purpose" instructional model.
As the current Adobe Youth Voices initiative sunsets this year and Adobe transitions to a new direct to youth online platform, SHIFT will offer a culminating professional development experience with 20 hand-picked veteran AYV educators. These teachers and their students will design and implement twenty social issue mixed media campaigns. Utilizing digital media as a vehicle for social change, check back this May to see classrooms take action through a mélange of student-produced films, photography and print work around issues such as gun control, illegal fight club boxing, childhood obesity, cyber bullying, and more.
---
UTAH FILM CENTER EDUCATION PROGRAMS GENEROUSLY SUPPORTED BY
---