COOL MEDIA TO CHECK OUT: Are you ready to Netflix and Bill?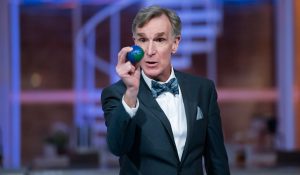 Bill Nye that is. Everyone's favorite science popularizer is back on the tube with a cool new show called Bill Nye Saves the World. I think we could use a little saving right now and science just might be the ticket. The show is adultish and pretty darn clever. Game of Thrones doesn't come on again until 2019 anyway, so you're going to need something to fill those long, smog-filled days in Utah.
---
SHIFT TEACHER PROFILE: And the award for Integrating Filmmaking in the Classroom Like a BOSS goes to…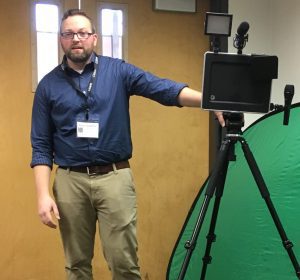 Stu Baggaley, 6th-grade science teacher at Edith Bowen Laboratory School. How can you do like Stu do? Read this quick Q&A with our award winner and get some tips from a pro.
Where do you teach and what subjects?

I teach at Edith Bowen Laboratory School at Utah State University. I teach 6th grade, so I'm lucky enough to teach all of the subjects.

How does filmmaking integrate into your classroom and teaching philosophy?

The reason I integrate filmmaking into all my content areas is to provide students an engaging way to show me they know what they are learning. It gives students a voice and makes them proud of their learning! My philosophy as an educator is whoever is doing the most work is doing the most learning. Project-based learning through the lens of filmmaking creates meaningful work for students, and in turn meaningful learning.

What tips/advice would you give to teachers thinking about integrating filmmaking into the classroom?

The best tip I've received about integrating filmmaking is to just go for it! You might not know how the software works, or how it will turn out in the end, but learn with the kids. Provide the time and trust that the film with showcase what the students know. This is truly the best formative assessment I give. It makes it so clear who's got it and who still needs help.

Name your top 3 movies

Back to the Future, Nacho Libre, 42

Anything else?

Filmmaking keeps me excited to be a teacher. Students and parents love seeing their work on the big screen!
If you want another helping of Stu, check out his website Breaking Down Classroom Walls with Filmmaking.
---
PROGRAM HIGHLIGHTS: If documentary film was a rapper its name would be Apathy Killa.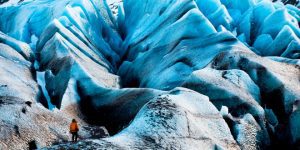 Yep, nothing gets students out of their seats caring about the world and its problems faster than a good documentary. Why? Because film is a powerful, multi-sensory experience that taps into our social and emotional awareness and connects us to a world outside of our own. We are here to help "spark" this feeling in your classroom with a program cleverly named (wait for it…) Film Spark.
Film Spark is a curated set of 12 documentaries each with an accompanying study guide and hands-on activities for you and your students to do together. No time for movies you say? We need to meet core standards you say? Well, you're in luck because our curricula do exactly that. The study guides have been aligned to meet multiple curriculum standard areas, including all your favorites: Utah Fine Arts Core Standards-Secondary Media Arts, Utah Core State Standards for English Language Arts-Secondary, Utah Standards for Library Media-Secondary, and the Film Foundation's National Film Study Standards for Middle School.
---
TECH TIP: Attention Aspiring Artists: An Announcement About Audience Awareness and Audible Audio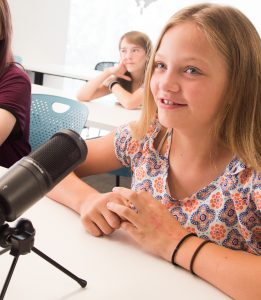 Annoying alliteration? Agreed. But what's more annoying than that? Bad audio in your films.  You see, audiences will forgive poor picture quality as long as the audio is clear. The inverse is not true. Imagine watching something as gorgeous as Planet Earth, but with David Attenborough's narration noisy and poorly recorded, and the symphony score badly mixed or too loud. It wouldn't be the same experience.
Here is a little secret: good audio makes your pictures look better. It makes your story richer.  It makes the audience experience more immersive. So next time you are creating a film in the classroom with your students, keep these tips in mind:
Don't use the stock, on-board mic on your iPhone or iPad. The quality stinks.

Use a clip-on lavalier mic (like

this one from RODE

) attached to your subject's shirt collar for recording dialogue or an interview.

When recording voice-over narration, or VO, make sure that you are speaking very close and into the mic. Your mouth shouldn't be more than 1-2 inches away.

If you're using a shotgun, or directional mic, keep it as close to your subject as possible without being in the shot and make sure it is pointed directly at the speaker's mouth.  

You can't "fix it in post". #@$% audio in = #@$% audio out. Make sure you test your microphone to make sure it sounds good when you are recording.
---
STAFF PRODUCED MEDIA: Heartbreaking Works of Staggering Genius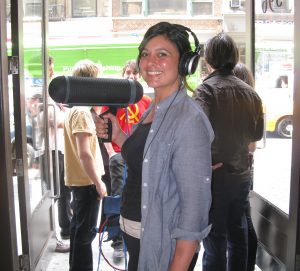 Video killed the radio star…? Not so fast.
According to Suzi Montgomery, Director of Media Arts Education at the Utah Film Center, her transition from the airwaves to the camera lens was smooth as butter.  "Storytelling is the same for both: you need a hook, empathetic characters, and a relatable journey," says Montgomery.
Prior to starting at the UFC, Suzi produced dozens of long-form radio stories (for the lay people: podcasts) for her program, Science Questions, on NPR.  So next time you're in need of a dose of good audio storytelling, wedge in those earbuds and check out Suzi's podcast available here.  
This story on Vanishing Glaciers is a good place to start and will give you some good factoids next time your climate change-denying relative gives you a hard time for driving a Prius.  
---
Our 2018-19 teacher and student programming is taking form and we would love to see you either in your classroom or at one of our SHIFT workshops. All of our programming is fully granted funded (so FREE for teachers) and all professional development is eligible for USBE/relicensure PD credit or you can work towards an Ed Tech Endorsement. To see our 2018-19 program offerings click below and for any questions or registration information email our Education Coordinator Leslie Means at lmeans@utahfilmcenter.org.
Mark your calendar for these two upcoming programs to attend: