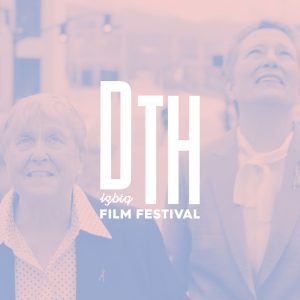 As a lifelong nerd, I've always ran in outsider circles, where my outsider LGBTQI friends have kept me thoroughly entertained and supported. At times, I am ashamed to admit, I have not returned the support when it might have embarrassed or inconvenienced me. On this island of LGBTQI tolerance of Salt Lake City in the conservative state of Utah, my friends, loved ones, and I have constructed a very comfortable, fun, and oftentimes exciting bubble, and the annual Damn These Heels LGBTQ Film Festival has been a cornerstone for the infrastructure of that bubble. I've had some of the most joyful and inspirational times at the Festival, but usually when it was easy for me. I realize now I was more of a voyeur—enjoying the lively and stimulating tales of creativity and courage—but not really being that brave or committed myself.
In this divided era, it is easier and easier to consume media in all of its quickly evolving forms, especially at home or on your phone, but it is very isolating. Watching films in community is a form of activism. Inviting the people from your community who would benefit from being closer to queer lives is a form of allyship. Attending Damn These Heels (DTH) and seeing these films in theaters connects you with your neighbors. At this year's DTH, I must see the films that are not necessarily just entertaining, and at the events, we must devise a strategy and implement action for our advocacy, especially in the upcoming midterm elections.
To be a good Utah ally, you MUST see Believer—a documentary about the relationship between Mormon values and compassion for LGBTQI Utahns via the story of Dan Reynolds of Imagine Dragons—a contemporary and charismatic LDS ally. We're bringing the film to Red Butte Gardens on July 18th as a festival pre-screening, presented as part of Sundance Institute's FREE Summer Film Series.
At the Festival itself, right off the bat, Quiet Heroes is a remarkable look at a local doctor's and her physician assistant wife's courageous actions during the AIDS epidemic. It's a great opportunity to ask what contemporary stands are worth taking. Other documentaries like Man Made, Transmilitary, and Leitis in Waiting give new faces to trans culture that, together, remind allies of the depth and range of trans experiences; while the unique challenges posed by the intersection of religion and queer identities are explored in Mr. Gay Syria, Leitis in Waiting, and The Gospel of Eureka.
If you're looking for those dramatic films that leave a mark and create empathy for a newer ally or family member, take a look at Close-Knit, Just Charlie, We the Animals, and Alaska is a Drag. All these films take you into a person's life where the importance of their queer identity is undeniable, and by the end, you're rooting for them to thrive.
Lastly, get acquainted with the cutting edge of queer culture and support our young and local talents by attending the 48 Hour Film OUT Project and the carefully curated shorts programs: Reverent and Irreverent.
We'll see you there! Whenever you see a film worth sharing, use the code "BringAFriend" when you buy a ticket to get a second ticket free.
Happy DTH 2018!
–Marcie Hansen Collett
Damn These Heels Programming Committee