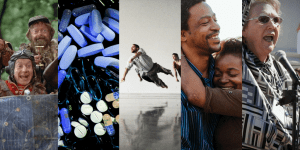 This month, we bring a wide variety of great films, like Quest, which takes us inside the row house of an inspiring inner-city family in Philadelphia, and Mr. Gaga, a film that shows how one person's vision can take an art form by storm. Check out all of our upcoming free screenings in September that will screen throughout Utah in Salt Lake City, West Jordan, Orem, Ogden, and Moab. We hope to see you in the seats!
At Utah Film Center, there is nothing we like better than presenting an engaging film to a full auditorium. The power of film to inform and inspire can benefit everyone, and making film accessible is a staple of the Film Center. That is why we're happy to announce that we are presenting films with Open Captions when available.
Open Captions, commonly known as subtitles, are a text display of dialogue and sometimes sound effects at the bottom of the screen. While our goal is to play all films with Open Captions, the cost and complexity to add captions to films can be prohibitive for filmmakers and distributors. To find films with Open Captions, look for the 

 symbol in our weekly email newsletter, program guide, or select 'Open Captions Films' on our online schedule. If you have any questions or feedback, please share your thoughts with Film Center staff or info@utahfilmcenter.org.