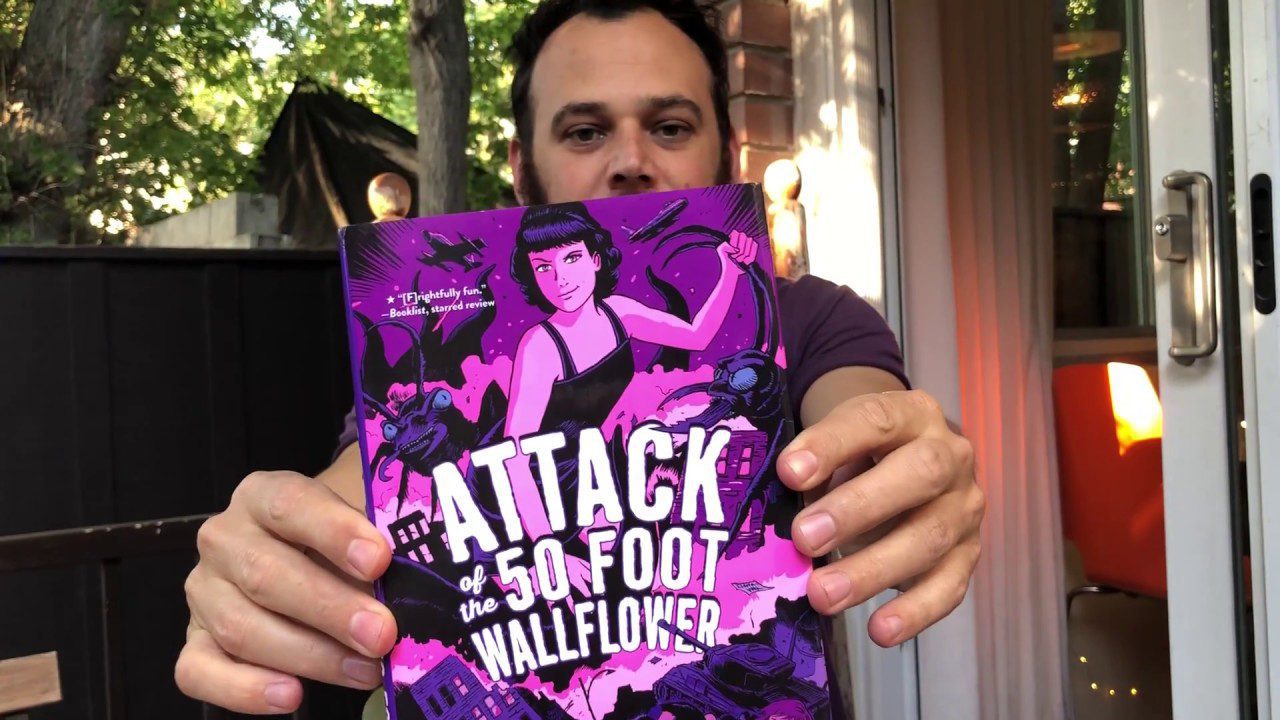 This post contains affiliate links and we may receive commissions for the purchases through these links at no extra cost to you.
We are excited to share the news that Artist Foundry resident Christian McKay Heidicker has been listed on the Preliminary Ballot for the 2018 Bram Stoker Awards® for his recent novel Attack of the 50 Foot Wallflower.
The Horror Writers Association is the premier writers organization in the horror and dark fiction genre, with over 1,400 members. It has presented the Bram Stoker Awards in various categories since 1987.
Congratulations to all those appearing on the Preliminary Ballot. Nominees will be announced in February.
2018 Bram Stoker Awards® Preliminary Ballot
Superior Achievement in a Novel
del Toro, Guillermo and Kraus, Daniel – The Shape of Water (Feiwel & Friends)
Di Orazio, Paolo – Dark Mary (Independent Legions Publishing)
Katsu, Alma – The Hunger (G.P. Putnam's Sons)
King, Stephen – The Outsider (Scribner)
Maberry, Jonathan – Glimpse (St. Martin's Press)
Malerman, Josh – Unbury Carol (Del Rey)
Manzetti, Alessandro – Naraka (Independent Legions Publishing)
Oates, Joyce Carol – Hazards of Time Travel (Ecco)
Reid, Iain – Foe (Gallery/Scout Press)
Saadawi, Ahmed – Frankenstein in Baghdad: A Novel (Penguin Books)
Stoker, Dacre and Barker, J.D. – Dracul (G.P. Putnam's Sons)
Tremblay, Paul – The Cabin at the End of the World (William Morrow)
Superior Achievement in a First Novel
Barsa, Michael – The Garden of Blue Roses (Underland Press)
Fine, Julia – What Should Be Wild (Harper)
Gordon, Jerry – Breaking the World (Apex Book Company)
Grau, T.E. – I Am the River (Lethe Press)
Kiste, Gwendolyn – The Rust Maidens (Trepidatio Publishing)
Lieske, Ryan – Fiction (Burning Willow Press, LLC)
Lye, Harriet Alida – The Honey Farm: A Novel (Liveright)
Setchfield, Nick – The War in the Dark (Titan Books)
Sorensen, Chris – The Nightmare Room (Harmful Monkey Press)
Stage, Zoje – Baby Teeth (St. Martin's Press)
Tremblay, Tony – The Moore House (Twisted Publishing)
Superior Achievement in a Young Adult Novel
Alameda, Courtney – Pitch Dark (Feiwel & Friends)
Ernshaw, Shea – The Wicked Deep (Simon Pulse-Simon & Schuster)
Heidicker, Christian McKay – Attack of the 50 Foot Wallflower (Simon & Schuster Books for Young Readers)
Ireland, Justina – Dread Nation (Balzer + Bray)
Kane, Dani – Wormholes: Book One of Axles and Allies (Barking Deer Press)
Legrand, Claire – Sawkill Girls (Katherine Tegen Books)
Maberry, Jonathan – Broken Lands (Simon & Schuster)
Snyman, Monique – The Night Weaver (Gigi Publishing)
Watson, Mary – The Wren Hunt (Bloomsbury Publishing)
White, Kiersten – The Dark Descent of Elizabeth Frankenstein (Delacorte Press)
Superior Achievement in a Graphic Novel
Ahmed, Saladin – Abbott (BOOM! Studios)
Antone, Alex and Wielgosz, Dave James – Cursed Comics Cavalcade (DC Comics)
Azzarello, Brian – Moonshine Vol. 2: Misery Train (Image Comics)
Bellaire, Jordie – Redlands Volume 1: Sisters by Blood (Image Comics)
Bunn, Cullen – Bone Parish (BOOM! Studios)
Hammond, Warren and Viola, Joshua – Denver Moon: Metamorphosis (Hex Publishers LLC)
LaValle, Victor – Victor LaValle's Destroyer (BOOM! Studios)
Lemire, Jeff – Gideon Falls Volume 1: The Black Barn (Image Comics)
Liu, Marjorie – Monstress Volume 3: Haven (Image Comics)
Pichetshote, Pornsak – Infidel (Image Comics)
Superior Achievement in Long Fiction
Bailey, Michael – Our Children, Our Teachers (Written Backwards)
Feldman, Stephanie – The Barrens (The Magazine of Fantasy & Science Fiction, May/June 2018)
Fracassi, Philip – Shiloh (Lovecraft eZine Press)
Hill, Joe – You Are Released (Flight or Fright: 17 Turbulent Tales) (Scribner)
Kelley, Brent Michael – Cruce Roosters (Omnium Gatherum)
Kurtz, Ed – Black's Red Gold (At the Mercy of Beasts) (JournalStone)
Malik, Usman T. – Dead Lovers on Each Blade, Hung (Nightmare Magazine Issue #74)
Mason, Rena – The Devil's Throat (Hellhole: An Anthology of Subterranean Terror) (Adrenaline Press)
Matthews, Mark – Body of Christ (Wicked Run Press)
Smith, Angela Yuriko – Bitter Suites (Createspace)
Sullivan, Todd – Shape Shifting Priestess of the 1,000 Year War (Schlock! Horror!) (HellBound Books Publishing LLC)
Superior Achievement in Short Fiction
Deady, Tom – "All Summers End" (Unnerving Magazine, Issue #8) (Unnerving)
Eldridge, Tori – "Life After Breath"(Running Wild Anthology of Stories Volume 2) (Running Wild Press)
English, Kary – "Cold, Silent, and Dark" (Undercurrents: An Anthology of What Lies Beneath) (WordFire Press)
Fawver, Kurt – "The Gods in Their Seats, Unblinking" (Vastarien: A Literary Journal Issue 1, Vol. 1) (Grimscribe Press)
Herrman, Heather – "The Woman in the Blue Dress" (Dark Screams: Volume Ten) (Hydra)
Landry, Jess – "Mutter" (Fantastic Tales of Terror) (Crystal Lake Publishing)
Murray, Lee – "Dead End Town"(Cthulhu Deep Down Under Volume 2) (IFWG Publishing International)
Neugebauer, Annie – "Glove Box" (The Dark City Crime & Mystery Magazine Volume 3, Issue 4-July 2018)
Power, Kit – "Fish Hooks" (New Fears 2) (Titan Books)
Robertson, Andrew – "Her Royal Counsel"(Alice Unbound: Beyond Wonderland) (Exile Editions)
Taff, John F.D. – "A Winter's Tale" (Little Black Spots) (Grey Matter Press)
Ward, Kyla Lee – "And in Her Eyes the City Drowned" (Weirdbook #39) (Wildside Press)
Superior Achievement in a Fiction Collection
Carmen, Christa – Something Borrowed, Something Blood-Soaked (Unnerving)
Files, Gemma – Spectral Evidence (Trepidatio Publishing)
Guignard, Eric J. – That Which Grows Wild (Cemetery Dance Publications)
Iglesias, Gabino – Coyote Songs (Broken River Books)
Niveau, Thana – Octoberland (PS Publishing Ltd)
O'Neill, Gene – Frozen Shadows: And Other Chilling Stories (Crystal Lake Publishing)
Sharma, Priya – All the Fabulous Beasts (Undertow Publications)
Smith, John Claude – Occasional Beasts: Tales (Omnium Gatherum)
Snyder, Lucy A. – Garden of Eldritch Delights (Raw Dog Screaming Press)
Taff, John F.D. – Little Black Spots (Grey Matter Press)
Waggoner, Tim – Dark and Distant Voices: A Story Collection (Nightscape Press)
Superior Achievement in a Screenplay
Aster, Ari – Hereditary (PalmStar Media)
Averill, Meredith – The Haunting of Hill House: The Bent-Neck Lady, Episode 01:05 (Amblin Television, FlanaganFilm, Paramount Television)
Averill, Meredith – The Haunting of Hill House: Screaming Meemies, Episode 01:09 (Amblin Television, FlanaganFilm, Paramount Television)
Cosmatos, Panos and Stewart-Ahn, Aaron – Mandy (SpectreVision)
Dyson, Jeremy and Nyman, Andy – Ghost Stories (Warp Films, Altitude Film Entertainment, Catalyst Global Media in association with Lionsgate)
Fradley, Jeff, McBride, Danny and Green, David Gordon – Halloween (Blumhouse Productions, Miramax, Night Blade Holdings, Rough House Pictures, Trancas International Films, Universal Pictures)
Garland, Alex – Annihilation (DNA Films, Paramount Pictures, Scott Rudin Productions, Skydance Media)
Heisserer, Eric – Bird Box (Bluegrass Films, Chris Morgan Productions, Universal Pictures)
Ray, Billy and Smith, Mark L. – Overlord (Bad Robot, Paramount Pictures)
Woods, Bryan, Beck, Scott, and Krasinski, John – A Quiet Place (Platinum Dunes, Sunday Night)
Superior Achievement in an Anthology
Chambers, James, Grey, April, and Masterson, Robert – A New York State of Fright: Horror Stories from the Empire State (Hippocampus Press)
Datlow, Ellen – The Devil and the Deep: Horror Stories of the Sea (Night Shade Books)
Dewar, Simon – Suspended in Dusk II (Grey Matter Press)
Guignard, Eric J. – A World of Horror (Dark Moon Books)
Murano, Doug – Welcome to the Show (Crystal Lake Publishing)
Murray, Lee – Hellhole: An Anthology of Subterranean Terror (Adrenaline Press)
Neal, David T. and Scott, Christine M. – The Fiends in the Furrows: An Anthology of Folk Horror (Nosetouch Press)
O'Regan, Marie – Phantoms: Haunting Tales from Masters of the Genre (Titan Books)
Ward, D. Alexander – Lost Highways: Dark Fictions from the Road (Crystal Lake Publishing)
Worthen, Lyn – Quoth the Raven (Camden Park Press)
Superior Achievement in Non-Fiction
Connolly, John – Horror Express (PS Publishing)
Cutchins, Dennis R. and Perry, Dennis R. – Adapting Frankenstein: The Monster's Eternal Lives in Popular Culture (Manchester University Press)
Gambin, Lee – The Howling: Studies in the Horror Film (Centipede Press)
Hopton, Sarah Beth – Woman at the Devil's Door: The Untold True Story of the Hampstead Murderess (Red Lightning Books)
Ingham, Howard David – We Don't Go Back: A Watcher's Guide to Folk Horror (Room 207 Press)
Jones, Darryl – Sleeping with the Lights On: The Unsettling Story of Horror (Oxford University Press)
Mynhardt, Joe and Johnson, Eugene – It's Alive: Bringing Your Nightmares to Life (Crystal Lake Publishing)
Phillips, Kendall R. – A Place of Darkness: The Rhetoric of Horror in Early American Cinema (University of Texas Press)
Poole, W. Scott – Wasteland: The Great Ward and the Origins of Modern Horror (Counterpoint)
Wetmore Jr., Kevin J. – Uncovering Stranger Things: Essays on Eighties Nostalgia, Cynicism and Innocence in the Series (McFarland)
Superior Achievement in a Poetry Collectio
Boston, Bruce – Artifacts (Independent Legions Publishing)
Clark, G.O. – The Comfort of Screams (Alban Lake Publishing)
Cowen, David E. – Bleeding Saffron (Weasel Press)
Fletcher, Joe – The Hatch (Brooklyn Arts Press)
Lynch, Donna – Witches (Raw Dog Screaming Press)
Shepard, Oliver – Thirteen Nocturnes (Ikonograph Press)
Simon, Marge and Manzetti, Alessandro – War (Crystal Lake Publishing)
Tantlinger, Sara – The Devil's Dreamland (Strangehouse Books)
West, Jacqueline – Candle and Pins: Poems on Superstitions (Alban Lake Publishing)
Wren, Twyla – Gwendolyn Witch and Other Macabria (Independently Published)