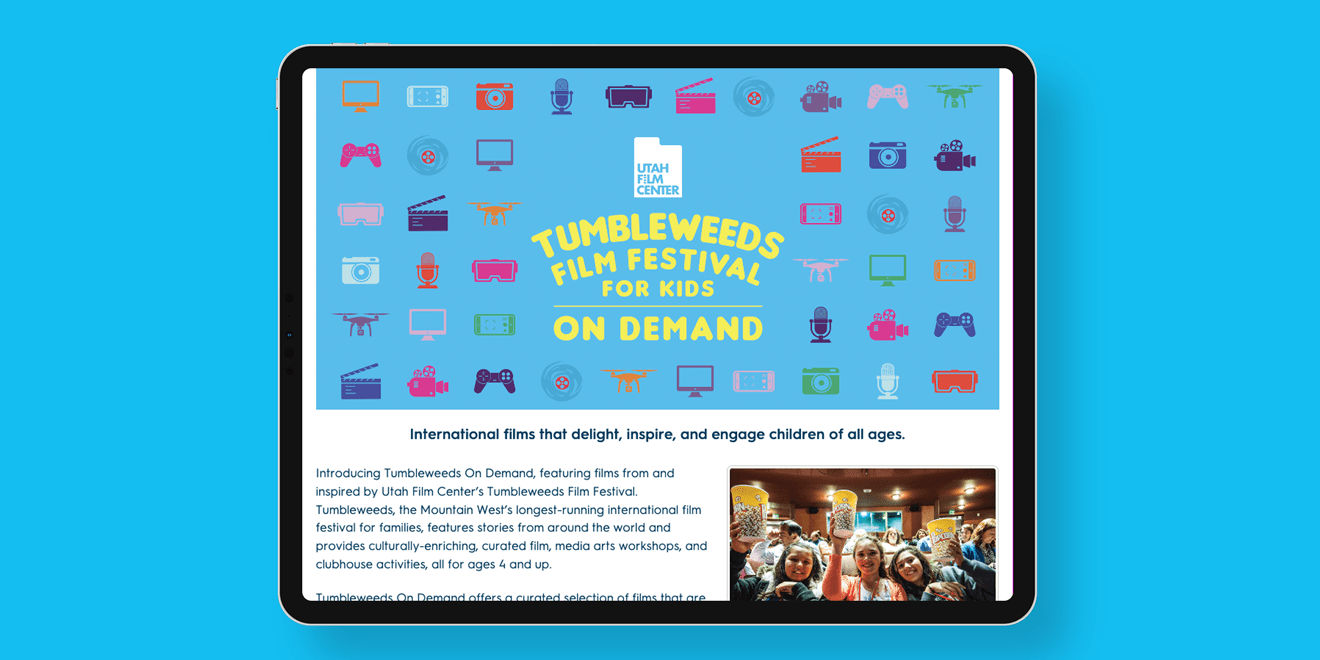 Utah Film Center Launches 'Tumbleweeds On Demand'
Independent & International Films for Young Audiences Available Online At TumbleweedsFilmFestival.org
Salt Lake City, UT –  Utah Film Center announced today the launch of the 'Tumbleweeds on Demand' streaming site. Inspired by the success of the Tumbleweeds Film Festival, this new streaming platform provides audiences with a curated selection of films from around the world for families and young audiences. 
At launch, the site is hosting five films representing five different countries that have either screened at past festivals or are in the spirit of the programming offered at the annual event. The first five titles will be available to rent until May 7, with new films being added regularly, providing audiences access to a fresh selection of films to enjoy. The cost to stream a film is $6.99 for a 3-day rental. 
Patrick Hubley, Executive Director of Utah Film Center, said, "Since we launched Tumbleweeds 10 years ago, the festival has become one of our most popular programs. Local audiences have embraced the thought-provoking, imaginative, and engaging films we have presented over the years. As our world continues to adapt to physical distancing and families are staying home, we prioritized finding a way for our young cinema lovers to be able to watch Tumbleweeds films. Though it is a sad and challenging time, we're excited to launch this platform, and appreciate the support from all of our sponsors and community members, as well as the distributors, sales agents, and filmmakers who are working with us to make Tumbleweeds On Demand possible."
Tumbleweeds On Demand trailers and rental information can be found at tumbleweedsfilmfestival.org.
TUMBLEWEEDS ON DEMAND TITLES FOR APRIL: 
The Detectives (Detektiverne)
Directed by: Esben Tønnese
Denmark | Screens in Danish with English subtitles
Frustrated by the state the world is in, thirteen-years-old Mathilde forms a detective agency to help the weakest members of society. Unfortunately, the only interested candidates are Tobias and Gustav, two peculiar boys who are secretly in love with her.
Recommended for ages 10+
Dragon Girls (Drachenmädchen)
Directed by: Inigo Westmeier
Germany/China | Screens in Mandarin with English subtitles
The story of three Chinese girls training to become Kung Fu fighters at the Shaolin Tagou Kung Fu School.
Recommended for ages 10+
Pim & Pom: The Big Adventure
Directed by Gioia Smid
Netherlands | Screens in English
The friendship between the impulsive and adventurous Pim and the more cautious Pom is put to the test when they are faced with trying to find their way home.
Recommended for ages 4+
Romy's Salon (Kapsalon Romy)
Directed by Mischa Kamp
Netherlands/Germany | Screens in Dutch, Danish, & German with English subtitles
Romy dislikes having to go to her grandmother's hair salon after school, but everything changes when Romy discovers a totally different side to her grannie's character.
Recommended for ages 8+
Supa Modo
Directed by Likarion Wainaina
Kenya/Germany | Screens in Swahili with English subtitles
The story of a young girl whose dream of becoming a superhero is threatened by terminal illness, inspiring her village to rally together to make her dream come true.
Recommended for ages 8+
MEDIA RESOURCES:
For photos of please visit our press folder here: utahfilmcenter.org/press/tumbleweeds
ABOUT UTAH FILM CENTER'S TUMBLEWEEDS FILM FESTIVAL:
Utah Film Center's Tumbleweeds Film Festival is an annual film festival for kids, ages 4 and up. Launched in 2010, Tumbleweeds provides opportunities for film lovers of all ages to engage their creative spirit, and bridge cultures by experiencing films whose stories transcend geographic, cultural, and political boundaries. Past Festival films include A Monster in Paris, The Eagle Huntress, Science Fair, Supa Modo, Oddball, Long Way North (Tout en haut du monde), Eleanor's Secret, My Friend Raffi, I Learn America, Rainbow, and Ernest & Celestine. Films at Tumbleweeds are screened in their original language. Foreign language screenings are presented with English subtitles that will be read over listening devices by a "subtitle reader" for audience members who prefer an English dialogue track.
Tumbleweeds Film Festival is generously supported by Salt Lake County Zoo, Arts and Parks (ZAP), George S. and Dolores Doré Eccles Foundation, University of Utah Healthcare, Salt Lake City ACE Fund, Chevron, Utah Transit Authority, Lawrence T. and Janet T. Dee Foundation, and our family sponsors.
###
Utah Film Center
Utah Film Center utilizes the power of film to educate, inspire, and engage Utahns, transcending political, geographic, cultural, and religious boundaries to highlight human experiences from around the world. Utah Film Center is a 501(c)(3) nonprofit organization. Connect with us on Facebook, Instagram, and Twitter. For more information visit utahfilmcenter.org.

Utah Film Center programs are publicly funded by Salt Lake County Zoo, Arts and Parks (ZAP), Utah Divisions of Arts and Museums, National Endowment for the Arts, and Salt Lake City Arts Council.