In 1968, with the eyes of the world upon them, The Beatles traveled to Rishikesh, India, to study transcendental meditation with Maharishi Mahesh Yogi. In one of the most anticipated Beatles documentaries, Filmmaker Paul Saltzman retraces his journey of 50 years ago when he spent a life-changing time with John, Paul, George, and Ringo. Fifty years later he reveals previously unknown details of this pivotal moment in the Beatles' career and the inner workings of the masterful White Album.
Starting with "Bungalow Bill" in Hawaii; connects with David Lynch about his own inner journey; as well as preeminent Beatles historian, Mark Lewisohn; Academy Award-nominated film composer, Laurence Rosenthal.: and Pattie and Jenny Boyd. And much of this is due to Saltzman's own daughter, Devyani, reminding him that he had put away and forgotten these remarkably intimate photographs of that time in 1968.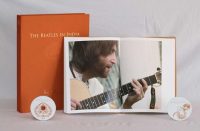 Pre-order available now! Patrons who pre-order before September 11, 2020, have a chance at winning Paul's autographed book "The Beatles in India – Special Limited Edition Book" worth $325.00.
Pre-order today – film available starting Friday, September 11. Rent the film for $12, get 3 days to view the film online. 50% of all proceeds will support Utah Film Center and our staff.
---
How To Start Watching
Click the button above and you will then be directed to the film's website where you will make an account and submit your payment.
Wondering how to connect your computer or mobile device to your TV? Check out our overview of wired and wireless options.