http://youtu.be/LomUmAONUpo
Thursday, June 7 @ 7:00 PM | Megaplex Theatres at the Gateway
RSVP – jhorne@utahfilmcenter.org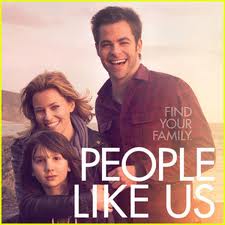 Attention members! Join us on at the Megaplex Theatres at the Gateway on Thursday, June 7 for a members-only, advanced screening of DreamWorks Pictures' new film: PEOPLE LIKE US.
"In a story inspired by true events, Sam, a twenty-something, fast-talking salesman, is tasked with fulfilling his estranged father's last wishes-delivering an inheritance to a sister he never knew he had." Starring Chris Pine, Elizabeth Banks, and Michelle Pfeiffer. See it three weeks before its official June 29 release date!
If you would like to join us please RSVP to Jeff at jhorne@utahfilmcenter.org



Not a member? Become a member today to be invited to this screening and others like it!