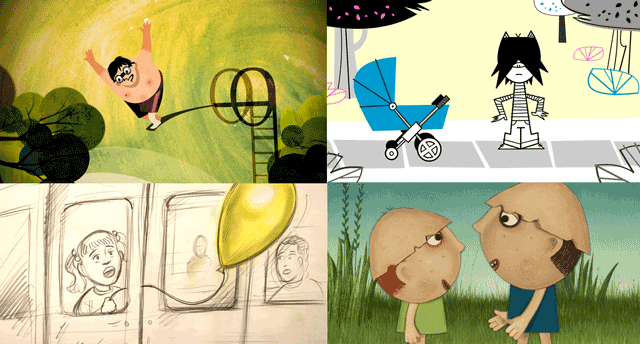 .
Saturday, August 11 @ Noon to 9:00 PM | Craft Lake City @ The Gallivan Center (239 S Main St) – Salt Lake City


60 min | 2009/2010 | Various
In English or musical/no dialogue
Free screenings of 2011 Kids Flix Mix – Kids short film program Noon – 9p.m. Gallivan Center as part of Craft Lake City – the program will play through out the day.
The Craft Lake City Festival is an annual outdoor celebration of Utah's DIY handmade culture. Held yearly in August at the Gallivan Center in Salt Lake City, the festival features over 200 local artisans and DIY Engineers, along with live entertainment that includes demonstrations, street performers, musical acts, and local food vendors.
Kids Flix Mix is aA kaleidoscopic showcase of the best short film and animation from around the world, for ages 3 and up. Program includes:
Mi'au Myau
UK
Animation, Vida Vega, 2009, 1 min
In this lovely hand-drawn short animation, a group of birds sit together on a branch, chirping away each in their own native tongue. But when an unexpected visitor comes along, his words are universally understood.
All That Cats
Hungary
Animation, Mátyás Lanczinger, 2009, 1 min x 3
In this series of short animations, a duo of hip hop cats perform beatbox rhythms to transform everyday situations into a musical experience.
How the Shammies Bathed
Latvia
Mixed Media, Edmunds Jansons, 2010, 7 min
Collage and mixed media animation create a textural feast, with adorable animated characters designed in patterned fabrics, burlap, and buttons. A foreboding "drip-drop" coming from a dark room turns out to be only water in the tub – it's bath time for the Shammies!
Whistleless
Denmark
Animation, Siri Melchior, 2010, 5 min
In this fun, sweet, musical cartoon, a little bird struggles to find his voice in a world full of different noises. A colorful, hand-drawn gem from NYICFF alum Siri Melchior (Dog Who Was a Cat Inside, Mambo) makes its first East Coast appearance following a run of major fests including Berlin, Toronto, Annecy, Seoul, and many more.
The Yellow Balloon
USA
Animation, Ben Thompson/Rob Castillo, 2010, 3 min
The true story of a dramatic event that takes place on a New York City subway, featuring a little girl and her yellow balloon.
Who's There?
Slovakia
Animation, Vanda Raýmanová, 2009, 9.5 min
Two boys hatch out of eggs and have an imaginative adventure. Sometimes as friends, sometimes as rivals, they build a house to protect themselves from the wolf.
Mobile
Germany
Animation, Verena Fels, 2010, 6 min
Isolated on the edge of society, a cow tips the balance of destiny when she attempts to make a friend.
Saari
Spain
Animation, Pablo Jordi, 2008, 3 min x 2
Stunning colors, character design, and art direction show influences of Miro in this Spanish series about the creative adventures of a group of friends living together on the animated island of Saari.
Snowflakes and Carrots
Canada
Animation, Samantha Leriche-Gionet, 2010, 4 min
A little girl steals the carrot noses from all the snowmen she can find. But why?
Precise Peter
Germany
Animation, Martin Schmidt, 2010, 5 min
An obsessive compulsive dad is excited about introducing his little boy to the joys of alfresco dining. The fish is ready, the table is set, the sun is shining, all seems perfect – but junior can't quite get with the program.
Murphy's Shorts
USA
Animation, Todd Hemker, 2009, 2 min
A chubby kid on a diving board keeps bouncing, higher and higher, as sister, dad, and baby watch from below with growing anticipation and concern.
Ormie
Canada
Animation, Rob Silvestri, 2009, 4 min
Pig see cookie. Pig want cookie. But the cookies are frustratingly out of reach in glass jar on top of the fridge, just beyond his grasp… or are they? With inventiveness and relentless determination, Ormie employs Wile E. Coyote-type contraptions and half-baked plans in a series of increasingly desperate attempts to attain the sweet objects of his obsession.