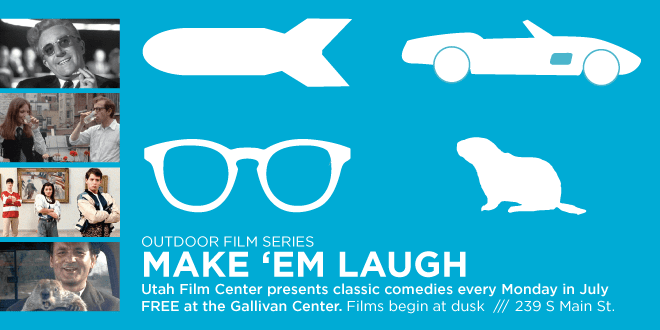 TIMELESS COMEDIES OF THE PAST 50 YEARS
"Comedy is simply a funny way of being serious." ~Peter Ustinov, actor/producer/director, 1982
The charm of the movie comedy is that it is so versatile. The form was popularized in the early 20th century, by silent comedy pioneers like Charlie Chaplin, Buster Keaton and Harold Lloyd, as well as Laurel & Hardy, the Little Rascals, the Keystone Cops and other comedy teams. All of them had very different styles of getting laughs, ranging from silly slapstick action to more clever, subtle gags, to the use of facial expressions.
Of that bunch, Chaplin was the one able to make the easiest transition to "the talkies," becoming a mature, credible comedy filmmaker as well as a talented performer in the process. He also passed the comedy-as-art-form baton onto filmmakers like Preston Sturges, whose "populist comedies" like Sullivan's Travels (1941), provided a stark contrast to the zany, Vaudeville-ian antics of the Marx Brothers.
Sturges, in turn, clearly influenced It's a Wonderful Life filmmaker Frank Capra, as well as Billy Wilder, whose 1959/1960 duo of Some Like It Hot and The Apartment stands as inarguable classics of the form.
By the time the '70s came around, standup-comedian-turned-filmmaker Woody Allen was assimilating all of these influences, resulting in the silly shenanigans of Bananas (1971) and considerably smarter complexities of Manhattan (1979). His contemporaries also stepped up their respective games—smart satires like Sidney Lumet's Network (1976) made audiences think, while Mel Brooks's 1974 spoof duo of Blazing Saddles  and Young Frankenstein were as deceptive and sly as they were crass.
And the '80s were dominated by the juggernaut that was the John Hughes "teen comedy" movie. (Though Hughes productions with adult cast members, such as 1987's Planes, Trains & Automobiles and 1989's Uncle Buck, offered more than ample proof that he was more than just a one-trick comedy pony.)
While the decades that have followed haven't really seen a "defining" comedy movement with as much spherical influence as those earlier films, they have seen the rise and fall of the Farrelly Brothers (of Dumb and Dumber fame), and seen both Judd Apatow and the Coen Brothers mix drama and comedy in equal doses.
They also featured strong performances from talented comic actors like Jim Carrey, Bill Murray, and Steve Martin, all of whom had characteristics Chaplin would have loved to see.
As a tribute to these greats, and many others, the Utah Film Center is proud to present Make 'em Laugh, a series of weekly screenings throughout the month of July at the Gallivan Center, which boasts four comedy movie classics, all of them "talkies" from the past 50 or so years.
These films not only include works by recognizable, veteran directors like Stanley Kubrick and Woody Allen, but also include selections by underrated, late filmmakers whose works continue to resonate today. The series also includes a good mix of political satire, romantic comedy, teen hijinks, and even some slapstick.
And most if not all of them are family friendly – the four movies are all rated either PG or PG-13, or would receive one of those ratings by today's standards. The four films selected for the series include are listed below.
~Jeff Michael Vice
Recently, Jeff Vice, friend of the Utah Film Center and local film critic, passed away suddenly. For the past two years Jeff worked with the Film Center to curate programs, including this year's outdoor series, Make 'em Laugh. Salt Lake city lost a vibrant voice. He will be missed.
The Utah Film Center dedicates this summer's series to Jeff.
Utah-based writer and film critic Jeff Michael Vice was an aficionado of classic movie comedies, widely ranging from Charlie Chaplin to the Marx Brothers to Billy Wilder to the Coen Brothers.
Fore more reviews by Jeff Vice visit Cinephiled, or watch them on Xfinity Utah's Big Movie Mouth-Off.
SALT LAKE CITY



Monday, July 7 @ Dusk – The Gallivan Center
Make 'em Laugh
DR. STRANGELOVE or: How I Learned to Stop Worrying and Love the Bomb
Directed by Stanley Kubrick
95 min | 1964 | USA/UK | Rated PG

Learn More…

SALT LAKE CITY




Monday, July 14 @ Dusk – The Gallivan Center
Make 'em Laugh
ANNIE HALL
Directed by Woody Allen
93 min | 1977 | USA | Rated PG
Learn More…

SALT LAKE CITY



Monday, July 21 @ Dusk – The Gallivan Center
Make 'em Laugh
FERRIS BUELLER'S DAY OFF
Directed by John Hughes
103 min | 1986 | USA | Rated PG-13
Learn More…

SALT LAKE CITY




Monday, July 28

Rain Delayed – New Date!
Monday, August 11 @ Dusk – The Gallivan Center
Make 'em Laugh
GROUNDHOG DAY
Directed by Harold Ramis
101 min | 1993 | USA | Rated PG
Learn More…