This month the member spotlight is on one of the Utah Film Center's most visibly supportive members, Annette Wigham. Annette attends nearly every single Film Center event and has taken it upon herself to promote the Utah Film Center mission and free film screening schedule to everyone she knows by handing out monthly program guides to all of her friends each month.
Thank you, Annette, for all you do!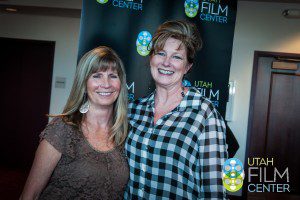 When Annette was asked why she goes out of her way to support the Film Center, this is what she had to say:
I love the Utah Film Center because they give so much back to the communities of Utah, and the quality and diversity of the films they present is amazing. I have been enlightened on many important world and human issues, but have also been entertained with fun and quirky films.
For several years I attended the free film screenings, then one day realized that I really wanted the Utah Film Center to succeed, so I became a supporting member. I've made a lot of new friends between the Film Center crew and other members because the Film Center staff really knows how to throw a party! I love that the Film Center frequently hosts receptions where members get to meet either the director, producer, writer, or subject of the film. My other favorite perk is that several times a year we are invited to attend a sneak preview of an upcoming feature film, weeks before it's released.
The Utah Film Center reaches out to such a variety of people, with their films and film festivals; ranging from the kids festival, Tumbleweeds, to the LGBT film festival, Damn These Heels. I also love the many organizations the Film Center partners with. I especially like when KUER has Doug Fabrizio moderate the Through the Lens series post-film discussion.
Thanks Utah Film Center for enhancing my life,
Annette Wigham
—-
Utah Film Center members are the foundation of our organization. Their ongoing annual support keeps our screenings free and brings film to more than 38,000 people statewide! Everyone is welcome to our weekly free screenings, but if you'd like to be invited to special screenings, private receptions with filmmakers, and would like to provide critical support for outreach programs that enrich the lives of children and adults, Annette, throughout Utah, please become a member.