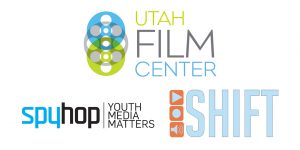 Utah Film Center, Spy Hop and SHIFT are looking for youth ages 13-18 to help us plan the inaugural "Film Festival for Teens" that will run April 24-26 at the Leonardo and the Salt Lake City Main Library.
We are looking for 7-8 dynamic and talented teens to help us select films, create workshops, shape the direction of branding, design marketing materials, build audiences and plan special events.
If you are interested, here's what's involved:
• Attend a minimum of 8 meetings. Specific Dates TBD – 1 in January; 2 in February; 2 in March; 3 in April.
• Contribute to the overall vision, direction and program.
• Perform assigned tasks as required (may include working at home).
• Participate on site during the actual festival, April 24-26.
• Tell your friends and get them involved in the event.
Some of the benefits include:
• A $250 stipend.
• Behind the scenes tour of the 2015 Sundance Film Festival.
• Mentoring by industry professionals.
• On-the-job experience.
• Meeting new people!
Below are some of the positions were looking to fill:
• Film Programmer (2-3 positions) – Work with the Utah Film Center Artistic Director to select the films for the 2015 Film Festival for Teens.
• Workshop Programmer (2 positions) – Work with the Spy Hop staff to create and organize the festival media workshops.
• Marketing/Communications (1 position) – Work with the Utah Film Center Marketing and Communications team to promote the festival.
• Graphic Designer (1 position) – Work with Utah Film Center Graphic Designer to create branding and promotional materials including fliers, online and print ads.
• Festival Operations (1 position) – Work with various staff to develop and implement the event schedule, manage the theater team, coordinate print traffic, other duties as required.
Application is now closed – Thank you to everyone who applied and stay tuned for more details about the new teen festival coming in April.