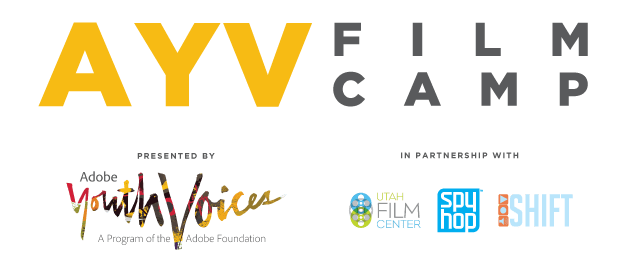 ASPIRING FILMMAKERS! Join us for a FREE 5-week film camp where you'll work with other teens ages 15–19 to create a short documentary film to tell your stories to the world!
The Adobe Youth Voices Film Camp takes place at Spy Hop, a youth media organization in downtown Salt Lake City that gives young people hands-on experience with professionals in film, music and game design.
You'll use professional equipment, be surrounded by other students who love the same things you do and be taught by mentors who not only work in the field they teach but who also care about you and your vision.
During the camp, you'll learn story and shooting techniques, Adobe Premiere editing software and finally, see your film premiere on the big screen at the 2015 Film Festival For Teens on April 25 in Salt Lake City, UT at the Salt Lake Public Library.
All necessary equipment will be provided — all you need to do is make sure you can make the dates listed below.
2015 Adobe Youth Voice Film Camp Schedule
Friday, February 27, 4-7pm Pre-Production
Friday, March 6, 4-7pm Pre-Production
Saturday, March 14, 10-4pm Production
Saturday, March 21, 10-4pm Post-Production
Saturday, March 28, 10-4pm Post-Production
Thursday, April 16, 4-6pm Get ready to show your film!
Saturday, April 25, 4-6pm Screening Event at the 2015 Teen Film Festival
Applications are due by Friday, February 20.

For more information contact Suzi Montgomery at suzi@shiftworkshops.org