September 6
We've moved into our new home!
Thanks to YOU and the support of hundreds of Fire Recovery Fund donors, we officially have a new address and place to call home. As of today, September 6, we are working in the Broadway Media Tower at 50 West Broadway, Suite 1125. You can still reach us at our old phone number, 801-746-7000. Special thanks to Western Interior Services for providing furnishings in our new office and Wasatch Commercial Management for their generosity!
Connect with us on Facebook, Instagram, and Twitter to see the most up-to-date photos of our new space.
---
June 29
We have a new home!
Three months after a fire ravaged the Utah Film Center's home of seven years on Main Street, we are happy to announce we have signed a lease for a permanent office space at 50 West Broadway. The building, known to many as the home to Broadway Media Group (X96, U92, ESPN 700, and more), will be ready for us in a couple of months. Until then, we have set up a temporary office space at the Wells Fargo Center at 299 South Main Street.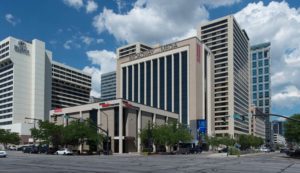 Help us celebrate our reemergence into the community and kick off our 13th annual Damn These Heels Film Festival on Wednesday, July 13th by spending a unique evening with Grammy Award®-winner Dionne Warwick! All the details can be found here: https://artsaltlake.org/production/evening-dionne-warwick/. Tickets start at just $25 for Utah Film Center members!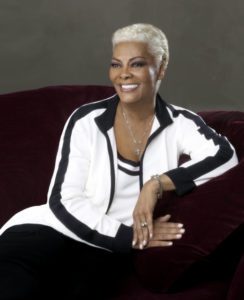 In addition to our new home and special event with Dionne Warwick, we are happy to announce that Utah Film Center raised over $80,000 at our We Didn't Start the Fire benefit hosted by Diane and Sam Stewart at their home on Saturday, June 25th. All proceeds will benefit the Utah Film Center Fire Recovery Fund. The evening was full of great food, even better company, and entertainment provided by Jamie Redford's band Olive and the Dirty Martinis. Due to multiple successful fundraising campaigns, we are now positioned to set up our new office and return to full working order. We will therefore be shutting down our GoFundMe page in the coming weeks.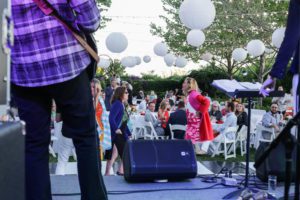 We're ecstatic to remain in downtown Salt Lake City and look forward to our bright future! We couldn't agree more with our cofounder and Board Chair Geralyn Dreyfous as she says in her blog post, "The fire has forced us to be creative and rethink our work in very imaginative and radical new ways, and, for the first time, I am able to see this fire not as a tragic accident, but liken it more to a forest fire that makes room for new growth and rebirth. Something beautiful is being born and it is exciting to see where it will go and grow. But that only has happened because of the generosity and responsiveness of this community we have and the resilience and teamwork of the Utah Film Center staff. It has been astonishing and inspiring." To read her full blog click here: https://www.utahfilmcenter.org/blog/2016/06/29/rising-from-the-ashes/
We are grateful to all who have donated to Utah Film Center. YOU are responsible for raising us from the ashes! We promise to return the favor by providing our community with the best independent and documentary curated film experiences and educational programs, and by supporting artists worldwide to initiate conversation and community building.
Thank you,
Utah Film Center
---
June 6
This weekend we participated in the Utah Pride Parade to support our LGBT community. We wore our brand new 2016 Damn These Heels Film Festival t-shirts and were enthusiastically cheered on by the crowd the entire length of the parade–it was a great day! If you were in the crowd, thank you for your support! To see photos from the day click here.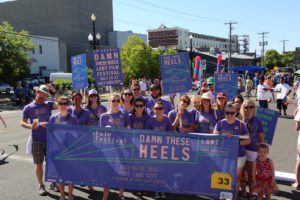 With Damn These Heels just around the corner (July 15-17) and as a result of the devastating March 29th fire, we, as a staff and board, decided to take the month of June off from free film programming. Instead, we will use the staff time lost on the fire to create an enhanced festival experience for all those attending the 13th annual DTH Festival and will focus on bringing all of the communities we serve the best independent, documentary, and dramatic FREE film programming possible in July and moving forward.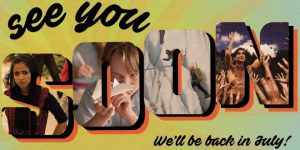 As Utah Film Center Membership and Events Coordinator Carly Nelson says, "I have learned so much from my time working at this organization, but my biggest takeaway from what happened post-fire was that there are no challenges, only opportunities. We have had the opportunity to value our time together, to share our organization's mission with those who may have been unfamiliar, and the community has recognized our value and has shown they care through messages, donations, volunteer work, space offers, food, furniture, computers, and positive words. We are not going anywhere." Thanks to you!
See you around town and at the Rose Wagner Performing Arts Center for the 13th annual Damn These Heels LGBT Film Festival in July!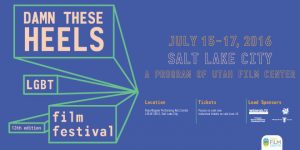 ---
May 24
Fiesta del Fuego was a success! We are proud to say with the help of Rico Brand and Frida Bistro, ticket buyers, silent auction winners, chefs and bartenders who donated their time, and a $5,000 matching grant from one of our board members–we exceeded our $15,000 fundraising goal for the evening! All proceeds benefit our fire recovery efforts. Thank you to everyone who celebrated with us and contributed to such a dynamic evening!
Please check out the photos we uploaded to our Facebook and Twitter feeds and enjoy your Memorial Day weekend! Our next update will come the week of June 6th.
Thank you for your support!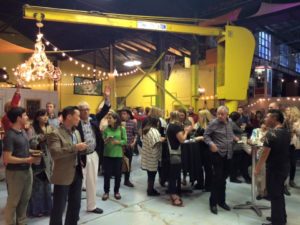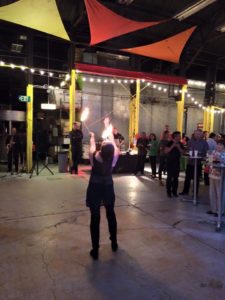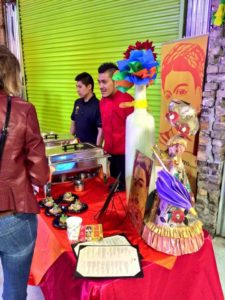 ---
May 16
We're steadily making progress on finding a new home. After visiting numerous potential office spaces, Utah Film Center leadership visited a promising space that would accommodate a staff of 16 and allow room for growth. We are currently reviewing a proposed lease and will update you as soon as we have any new information. While we eagerly await the outcome, Utah Film Center staff continues to work from home three days a week and at Babs de Lay's Urban Utah Homes & Estates office two days a week for meetings. Please thank Babs for her hospitality in person if you see her!
In the meantime, we're celebrating reaching $40,000 on our gofundme campaign–thank you for giving and supporting our staff and the larger community of film lovers we serve! If you would like to continue your support live and in person, Rico Brand and Frida Bistro are hosting Fiesta del Fuego THIS SATURDAY, MAY 21. Local chefs from Frida Bistro, Ogden Country Club, and Blue Poblano will provide dinner, complemented by a margarita bar sponsored by Vida Tequila. Music, fire performers, on-site caricature drawings, a silent auction, and more will follow. Tickets are $25 and, in compliance with Utah liquor laws, are open to those aged 21 and over. All proceeds will benefit the Utah Film Center Fire Recovery Fund. Purchase tickets by clicking here.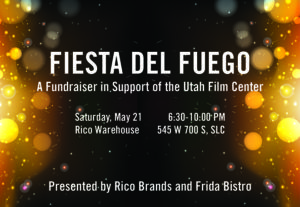 We look forward to thanking you for your encouragement in person!
---
May 10
Thanks to you, the Utah Film Center's staff's immediate needs have been taken care of and in the midst of the chaos caused by the fire, our education team managed to launch an entirely new program called Film Spark. This new program, geared towards educating incarcerated youth through the media arts, uses documentary film to help students build social and emotional awareness and connect with current events, cultures, crucial social and political issues, and beliefs beyond their own. These curated global stories are selected to initiate meaningful classroom discussions and activities, and ultimately lead young people to develop their own voices and become more successful students and productive citizens.
The Utah Film Center education team took it upon themselves to continue working through the devastation of the fire without hesitation to meet a May launch date. As a result of the resilient and ambitious staff members like those on our education team, the entire organization has succeeded in the face of tragedy and are leading by example for the youth we will be serving who are, like us, in need of some help and encouragement to keep pushing toward a bright future.
As we hope you can tell, we are working hard to adapt to our community's ever-changing needs, but require your continued support to further our reach. For this reason, we, with community sponsors, are offering two unique opportunities for our audience to celebrate the impact of Utah Film Center past, present, and future.
First, only recently announced, the first-ever Utah Film Center grand benefit hosted by Diane and Sam Stewart at their home will be held the evening of Saturday, June 25 and is nearly sold out! Limited sponsorship opportunities remain for the "We Didn't Start the Fire" event. If you are interested in one of the remaining spots please contact Carly Nelson at cnelson[at]utahfilmcenter.org.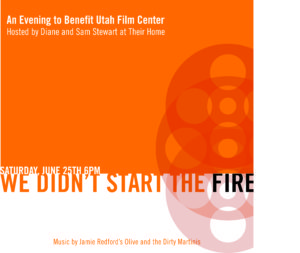 Second, tickets for Fiesta del Fuego continue to sell and our staff, Rico Brand, and Frida Bistro are looking forward to bringing the community together for a night of fun, music, and great food. To purchase $25 tickets for those 21+, click here. And remember, all proceeds from both events will benefit the Utah Film Center Fire Recovery Fund.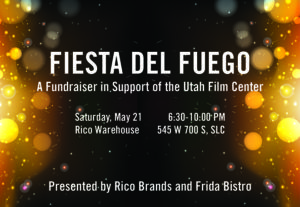 Thanks to partnerships, generous souls, and love we are close to recovery and will continue to serve those who believe in our mission to inspire and engage diverse audiences to initiate conversation and community building through curated film exhibition, educational programs, and artist support. Utah Film Center Education Coordinator Mariah Mellus puts it best as she says in her blog post:
"Film is an awesome tool to bring people together, share stories and connect content with the community. Surround yourself with creative passionate people, like I have with Utah Film Center staff, our partners, and our devoted members and donors and nothing is impossible!"
We will continue to provide our community with the best statewide film programming and media arts education with you by our side and we ask that you please continue to share our story and join us for events as we grow.
Thank you for pushing us forward.
-Utah Film Center
---
May 2
It's been over a month since the March 29th fire claimed our office space. Fundraising, programming, events, and our final visit to the office all transpired this last week.
For starters, on Wednesday, April 27th Utah Film Center staff wore their grubbiest clothing, put on masks and gloves, and ventured into the burned and blackened space we once called home. As you can tell from the pictures, the "office" only vaguely resembles the pre-fire days. During our final four-hour stay, staff made their way to their desks to collect whatever files, trinkets, or information they wanted and when finished began hauling what could be salvaged up from the deep recesses of the basement. This event proved to be smoky and somber, but ended up becoming somewhat of a bonding exercise. As everyone claimed what they wanted, loaded the Uhaul, and worked together, we all remembered that though our building was lost our team was not. Finally, we ended Wednesday by enjoying a fine lunch at one of our favorite Main Street spots, Lamb's Grill.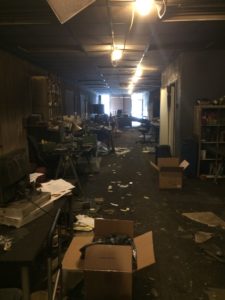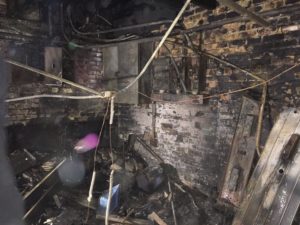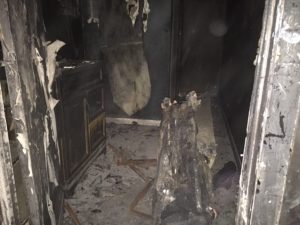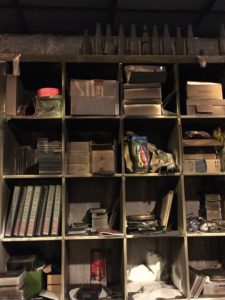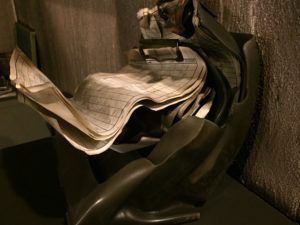 As you know, the fundraising campaign on gofundme is meant to help us get back on our feet, replace our necessities, and to find a new home to place our team. This week we're proud to say we have reached 26% of our goal. To show our appreciation for all donors, we have listed them on our "Fire Updates" page on our website. As new donors come in, we will post their name for all to see here (look right).
Seeing evidence of our community's generosity lifts us up on the toughest days. As you can imagine, the overwhelming feeling of displacement and loss is starting to get to us. However, to combat the blues and to reignite team spirit, this last week we spent two days using the office, coffee, and comfort of Babs de Lay's Urban Utah Homes & Estates office. Her staff and tenants were kind and cheerful–thanks to everyone for making us feel welcome and valued. We will be back there on Monday, but are still searching for a more permanent home.
Finally, if you'd like to join our band of staffers and the community that keeps us alive, please purchase tickets to our May 21st Fiesta del Fuego event by clicking here.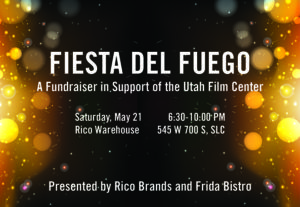 We look forward to evolving, feeling more settled, and providing you all with enlightening film experiences.
-Utah Film Center
---
April 25
As we slide into our fourth week without a permanent home, we, as a staff and community, are choosing to focus on all that is positive–and there is a lot!
First and foremost, on May 21 (6:30-10:00pm) Rico Brand and Frida Bistro have graciously offered to host a community event aptly named, Fiesta del Fuego at the Rico Warehouse. All proceeds will benefit the Utah Film Center's Fire Recovery Fund. Tickets are $25 and go on sale Friday, April 29th. Since there will be a cash bar, the event is open to those aged 21+. Please mark your calendars, get your tickets, and join us for an evening of food, music, and fun! As details for the event are confirmed they can be found here.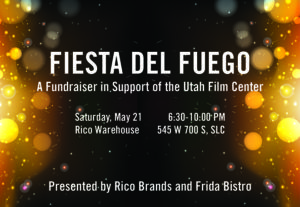 The fundraising on gofundme has not stopped–thank you all for your continued support. Currently, we are 24% of the way to our $150,000 go fund me goal. Please share our campaign on social media and if you have not given yet, there is still time–every bit helps!
We also received an insurance check that will cover the cost of replacing our staff's computers and hope to get everyone up and running on a new machine soon. Since the fire on March 29th, many staff have used their personal computers or equipment loaned by our partners, Sundance Institute.
Lastly, to makeup for time lost as a result of the fire, we will not screen any films in June. Instead, as a staff and board, we will focus on our upcoming Damn These Heels Film Festival (July 15-17), Tumbleweeds Film Festival (September 23-25), and future free programming. Please check our website often for additional information.
Thank you for supporting our mission to inspire and engage diverse audiences to initiate conversation and community building through curated film exhibition, educational programs, and artist support. If you have any questions please email Executive Director Elisabeth Nebeker at enebeker[at]utahfilmcenter.og.
-Utah Film Center
---
April 18
It's been nearly three weeks since the fire ravaged our office space. To date we have raised over 20% of our gofundme fundraising goal. We are thrilled with your generosity and support, but we still have a long way to go. Please give and share our gofundme campaign to help us raise the funds and awareness we need to recover from all that was lost in the March 29th fire.
Utah Film Center's Main Street office was provided rent-free by Zions Bank. Now that the office is gone, we must not only consider replacement costs for the inventory and equipment lost, but also rent. Though the full extent of damages are still being tallied, we know our total losses will be much greater than $150,000. In addition to the gofundme campaign, we have received private donations through our website–thank you to those gracious donors as well! These donations will also provide operational support for Utah Film Center. Our gofundme goal will remain $150,000, but we will strive to raise more to account for new costs associated with being forced out of our rent-free home.
Luckily, we have had many offers from generous community members willing to provide us with free office furniture as well as space. We are evaluating all the offers and hope to notify you soon of where our next office will be located. Until then we will continue to work from home and meet for meetings twice a week.
To date, this is where we stand:
We will receive $25,000 from our insurance company this week. This amount will only serve to relieve immediate equipment needs for staff (computers, media players, etc.) so everyone may continue to do their work.

April and May programming remains the same.

We are planning two additional fundraising events. One will occur in May and one in June, to celebrate our work and our supportive community. Stay tuned for the official save-the-date announcements.

If you have any questions or concerns, please direct inquiries to Utah Film Center Executive Director Elisabeth Nebeker (email enebeker[at]utahfilmcenter.org).
Just as with our previous update, we close with a few words from a staff blog. This week our Programming Manager Jeff Horne wrote about his love for Utah Film Center's work, the idiosyncratic office that once was, and how he sees the organization moving on as he says:
Our building, our home, is now gone…The devastation remains overwhelming.  
But amid the ruin of the office on Main Street, we have found a path to persevere.  The show will and must go on for our community. Because of our unyielding supporters and my/our belief that film is important and life-changing, we will recreate what we once had. Our team is creative, we are resourceful, and we will find a way forward without a limp in our stride.
His entire heartfelt blog can be found here.
Thanks to all staff and our community for believing that we can and will continue to thrive.
-Utah Film Center
---
April 11
As of today we have reached 17% of our GoFundMe fundraising goal! Your giving and sharing of the Utah Film Center message on social media has spread our cause far and wide. Please continue to share our posts on Facebook and Twitter to help spread awareness of our mission and status.
A few of you have also inquired about our day-to-day operations. Here is where we stand:
Our entire staff is working from home until we find a suitable and affordable office space that can house 16 full-time team members.
Nearly every day since the fire, our leadership has been on office site visits around the city and will continue to do so, until the right space has been found.
UMOCA and the City Library have graciously offered meeting spaces free of charge, so we may hold weekly meetings with all staff present twice a week.
We have confirmed that all curated film exhibition events in April and May will go on as planned.
Our education team is working hard to reorder materials, assess the damage on their equipment, and execute scheduled programs.
The fiscal sponsorship program continues to thrive and luckily, because most of the program's information was housed on a salvaged computer, has been minimally affected.
Leadership (staff and Board of Directors representatives) are working to assess the losses and insurance coverage.
If you have any questions, please feel free to direct inquiries to Utah Film Center Executive Director Elisabeth Nebeker (email enebeker[at]utahfilmcenter.org).
As more updates become available, we will notify you. Expect an update at least once a week.
We leave you with a few words from our Development and Grants Manager Laura Berbusse. She penned a blog (full blog found here) in which she eloquently describes how many Utah Film Center staff and community members feel about the now burned office building:
"This collection of bricks and mortar was not merely a building; rather, it was a hub that facilitated the processes of invention and refinement, both necessary to the production of the robust film programs with which we have served our community since 2002…Utah Film Center is not an office building. We are a collection of members, artists, staff, board, volunteers, partners, and community members who believe in the incredible power of film to change the world. It will take hard work, but we will indeed rise from the ashes, stronger than we ever were."
Thank you, Laura, all staff, community members, filmmakers, and strangers. Through your generosity and optimism, we will continue to provide Utahns and artists worldwide with edifying curated film exhibition, media arts education, and support to build a stronger community.
-Utah Film Center
---
April 6
We've hit a $10,000 fund milestone on GoFundMe–thank you, givers! We are in awe of your generosity.
Let's keep the momentum going! Please share our GoFundMe campaign on Facebook and Twitter and tag @utahfilmcenter so we can thank you for your love! We have faith we will reach our $150,000 goal with your help.
We will rise again,
Utah Film Center