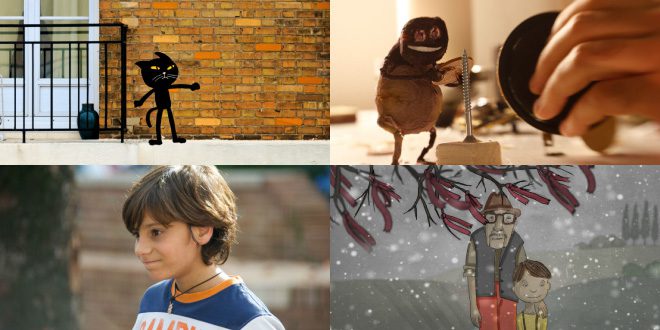 2016 NYICFF–KID FLIX MIX 2
Directed by Various
60 min | 2016 | Various Countries | Not Rated

A program of short films from around the world for ages 8 and up from the 2016 New York International Children's Film Festival.
ONE HELL OF A PLAN
France – dir. Jean-Loup Felicioli / Alain Gagnol
Animation, In French with English Subtitles, 2016, 6 min
Mo and Carl are two hapless burglars with one great plan. It involves a special potion, countless cats, a little old lady, and plenty of opportunities for disaster.
MINOULE
France – dir. Nicolas Bianco-Levrin
Animation, No Dialogue, 2014, 4 min
One determined cat goes to great lengths for a tasty canary.
BY THE NAME OF BOSTON
USA dir. – Grant Kolton
Animation, In English, 2015, 2.5 min
William Boston lives in the desert and doesn't care for many things, though he does have one friend, a scorpion named Chester.
TWO LEFT FEET
Italy dir. Isabella Salvetti
Live Action, In Italian with English Subtitles, 2015, 6 min
Mirko loves soccer, but when it comes to the cute girl he spots nearby, does he have game?
MY GRANDFATHER WAS A CHERRY TREE
Russia dir. Olga Poliektova / Tatiana Poliektova
Animation, In English, 2015, 12.5 min
A young boy realizes that his beloved cherry tree has provided his family with more than just fruit.
TWO FRIENDS
Russia/France dir. Natalie Chernysheva
Animation, No Dialogue, 2014, 4 min
Even best friends can have trouble understanding each other when they are from two different worlds.
THE MAN, THE BOY, AND THE DONKEY
Japan, dir. Atsushi Wada
Animation, In Japanese with English Subtitles, 2014, 3 min
Once upon a time, there was a family selling donkeys. One day, the son said, "It is a waste of time if we don't ride the donkeys."
AIR-MAIL
Switzerland/France, dir. Isabelle Favez
Animation, No Dialogue, 2015, 6 min
A young woman lives alone with her cunning cat, secretly in love with the boxer next door. Thanks to her cat's adventures, she gets closer to contact with her crush.
CHANGEOVER
Iran, dir. Mehdi Alibeygi
Animation, No Dialogue, 2014, 1.5 min
A young bird engages in a surprising courtship…on a badminton court.
ACCIDENTS, BLUNDERS, AND CALAMITIES
New Zealand, dir. James Cunningham
Live Action/Animation, In English, 2015, 5 min
A father possum reads his kids the spooky story of the most dangerous animal of all: HUMANS!
SLAVES OF THE RAVE
UK, dir. William Garratt
Animation, No Dialogue, 2014, 2.5 min
Whether it's a rock concert, an opera, a jazz performance, or an electronic show, we're all just slaves to the rave!
STEMS
UK, dir. Ainslie Henderson
Documentary, In English, 2015, 2 min
2012 Festival Grand Prize winner Ainslie Henderson (I Am Tom Moody) shares his eulogy for the short life span of stop motion animation puppets.
LILOU
Lebanon/France, dir. Rawan Rahim
Animation, No Dialogue, 2015, 8 min
Lilou, shy and curious, has rare insight into other people's pasts. When she crosses paths with a strange man, she experiences an unexpected resolution.
Tumbleweeds generously supported by


Saturday, September 3 @ 11AM
The City Library – SLC
Learn More…
Saturday, September 10 @ 2PM
Orem Public Library – Orem
Learn More…
Friday, September 16 @ 4PM
King Koal Theatre – Price
Learn More…
Saturday, September 17 @ 11AM
Viridian Center – West Jordan
Learn More…
Friday, September 30 @ 6PM
Sorenson Unity Center – SLC
Learn More…