Utah Film Center offers artist support with an alternative program: fiscal sponsorship. Artists and filmmakers in need of funding can apply to our fiscal sponsorship program online and approved non-commercial film projects are eligible to use the Film Center's nonprofit status, rather than establishing their own. We are proud to announce that two of these projects will be making their world premiere's at the 2017 Sundance Film Festival.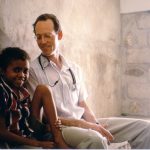 BENDING THE ARC
Directed by Kief Davidson and Pedro Kos
This powerful epic is about the extraordinary doctors and activists—including Paul Farmer, Jim Yong Kim, and Ophelia Dahl—whose work 30 years ago to save lives in a rural Haitian village grew into a global battle in the halls of power for the right to health for all. World Premiere
STEP
Directed by Amanda Lipitz
The senior year of a girls' high school step team in inner-city Baltimore is documented, as they try to become the first in their families to attend college. The girls strive to make their dancing a success against the backdrop of social unrest in their troubled city. World Premiere
Utah Film Center
Utah Film Center inspires and engages diverse audiences to initiate conversation and community building through curated film exhibition, educational programs, and artist support. We continually strives to bring our community together through the powerful and efficient medium of film.
Utah Film Center is a 501(c)(3) nonprofit organization and generously sponsored by the George S. and Dolores Doré Eccles Foundation, Salt Lake County Zoo, Arts & Parks Program, and Zions Bank.
Connect with us on Facebook, Instagram, and Twitter. For more information visit www.utahfilmcenter.org.