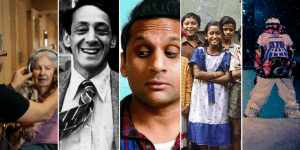 August 14th marks the 15th anniversary of Utah Film Center's incorporation as a non-profit. Originally known as Salt Lake City Film and Artists' Collaborative, Utah Film Center was founded by Geralyn Dreyfous, Nicole Guillemet, and Kathryn Toll with a vision that is still core to our mission – to build community through the power of film.
From what started as one-off film screenings in Salt Lake City, the Film Center has grown to provide the community with over a dozen monthly free screenings across the state, two celebrated annual film festivals, a multi-faceted media education program, and artist support for over 100 fiscal sponsor projects.
To celebrate bringing the world of film to Utah for 15 years, we turned the programming over to you for an audience-selected retrospective! In May we asked our members, newsletter subscribers, and social media followers to submit their favorites from all the films we have played.  After tabulating the votes, the results are in, and all Tuesday night screenings in August at The City Library feature films selected by you, our members and patrons.
We're thrilled to announce those top 5 films: Alive Inside on August 1, The Times Of Harvey Milk on August 8, Meet The Patels on August 15, Born Into Brothels on August 22, and The Crash Reel on August 29.
Thank you to our all of our sponsors and donors who have supported us over the years! Our year-round programming wouldn't be possible without their support.