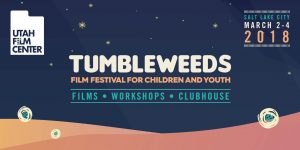 In order to ensure that we deliver the best experience and the highest level of participation for our community, the dates for our upcoming 7th annual Tumbleweeds Film Festival for Children and Youth have changed from September 22-24, 2017 to March 2-4, 2018 at the Rose Wagner Performing Arts Center in downtown Salt Lake City.
After careful consideration, this new timeframe was established to better accommodate families, students, educators, and audiences who enjoy the Festival year after year. As the Intermountain West's only film festival for children, our Tumbleweeds Film Festival will continue to present new, culturally-enriching, curated cinema for kids ages 4-12. Audiences will see the best animation and live-action film from around the world, participate in media arts workshops, and explore hands on activities and active play in the Clubhouse. Mark your calendars for the 2018 Tumbleweeds Film Festival, March 2-4!
Please note that our Tumbleweeds Fall Field Trips will go on as planned featuring The Mars Generation with director Michael Barnett in attendance from September 20-22, 2017 in Salt Lake City and West Jordan. We're excited to have over 1,600 students from across the Wasatch Front attend these field trips!
In other news, we are so proud that our Tumbleweeds Film Festival has received Salt Lake Magazine's 2017 Best of the Beehive award for "Best Sundance-alternative". A big thanks to Salt Lake Magazine for this wonderful honor!