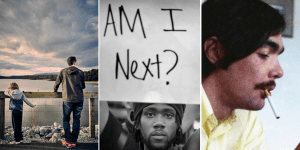 Film is a powerful and efficient medium that can inspire change: Change of heart, blossoming from new information, galvanized into making change within a community. Every month we work with local partners to connect these stories to our communities. This month alone, we are partnering with over 20 local organizations to transform the ideas from these films and activate them in the here and now.
The film Call Me Dad (October 3 at The City Library) shows the challenging path for abusive men through a group of Australian fathers, and Talk to A Survivor connects us to local resources and experts. 13TH (October 5 at the County Library's Viridian Event Center) explores the inequities of mass-incarceration, and over a dozen partners have helped us turn the screening into a call to action. We're proud to partner with the Utah Humanities Council to present A Late Style of Fire: Larry Levis, American Poet (October 17 at The City Library) for the Utah Book Festival, a look into the brilliant poetry and scandalous life of Larry Levis. For "The Sound of Silents" series (October 13, 20, & 27 at The City Library) we dug deep into the history of film for spooky silent films, and The City Library lined up local musicians to create original scores performed live with each film.
These partnerships remind us how lucky we are to have such an active community. We'll keep bringing the stories, if you keep bringing them to life.