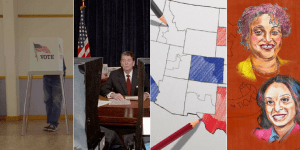 With Election Day 2017 just behind us, Utah Film Center has curated a short list of documentaries around our democratic process that we suggest adding to your weekend queue.
First on the list is a film we recently screened 11/8/16, which is a portrait of the momentous election day last year through the eyes of sixteen diverse Americans. In the past, we've also screened The Reagan Show and Gerrymandering, both excellent films that look at the process of winning the vote from very different perspectives. Finally, women nationwide have been showing up in reaction to Donald Trump's presidential upset, radically increasing the number of women running for office in upcoming elections. Topic is releasing short films all month, a collection called She's the Ticket, which explores this phenomenon and introduces the women running for office across the county.
As always, we would love to hear your thoughts on this weekend's film selections. Comment below to join the conversation with us.
11/8/16
Curated and Produced by Jeff Deutchman
104 min | 2017 | USA | Not Rated
Captured by a curated group of some of America's finest documentary filmmakers, 11/8/16 follows sixteen subjects spanning the country's geographic, socioeconomic, and political divides throughout the course of that history-altering day.
WHERE TO WATCH:
---
The Reagan Show
Directed by Pacho Velez and Sierra Pettengill
74 min | 2017 | USA | Not Rated
This film explores through archival footage how Ronald Reagan redefined the look and feel of what it means to be the POTUS.
WHERE TO WATCH:
---
Gerrymandering
Directed by Jeff Reichert
81 min | 2010 | USA | Not Rated
This film documents the battle for reshaping and redistricting the electoral landscape that is being fueled by the intense political climate in our country.
WHERE TO WATCH:
---
She's the Ticket
Directed by Nadia Hallgren
26 min | 2017 | USA | Not Rated
It's been one year since the election of Donald Trump, and there's a new wave of women running for political office. We follow five female candidates who are jumping into everything from gubernatorial showdowns to city-council races, getting inside the fascinating, difficult, and inspiring process of campaigning.
WHERE TO WATCH: