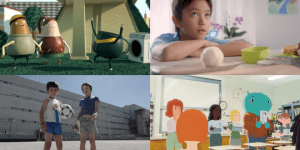 2017 NYICFF–KID FLIX MIX 2
Directed by Various
77 min | 2017 | Various Countries | Not Rated

A teenage monster confronts a bully in Welcome to My Life (USA), a Japanese-Australian boy finds adventure in his lunchbox in Riceballs (Australia), and a competitive swimmer must prove that big talent can come in small packages in Little Mouse (Hungary). Kid Flix 2 features live action and animated shorts for ages 8 and up from the 2017 New York International Children's Film Festival that offer witty and wise takes on friends, family, and fitting in. All films either in English or with English subtitles.
Tumbleweeds Year-Round screenings made possible by the support of


Saturday, Jan 6 @ 11:00 AM
The City Library – SLC
Learn More…
Monday, Jan 8 @ 4:30 PM
County Library's Viridian Event Center – West Jordan
Learn More..