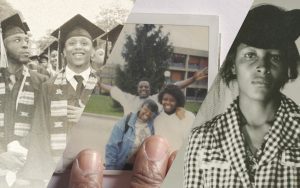 This February, Utah Film Center is honored to highlight black directors and African-American experiences as part of our curated film exhibition. Through looking at our history, both well-known and obscure, we see people fighting injustice, acquiring tools to lead, and claiming their space in society and culture.
Our Through The Lens film examines injustices at the intersection of race, class, and gender in The Rape of Recy Taylor (February 7 at the Rose Wagner). Taylor's story goes for the roots of how justice can be unjust until the people rally to change their society. Likewise and more recently, Strong Island (February 27 at The City Library) intimately explores a family's traumatizing experience of a violent murder and their invisibility and depersonalization in the hands of an entirely white justice system.
For every story of mistreatment, there is one of resilience and opportunity. Tell Them We Are Rising (February 6 at The City Library) examines the role of education in achieving emancipation and equality, from the antebellum era to modern day, through the history of black colleges and universities. And for our Damn These Heels LGBTQ Year–Round screening, we bring empowering and fresh voices of confident black queer culture in a selection of short films (February 8 at The City Library).
These are just a few of the stories we are excited to share this month.

Our year-round film screenings are free and open to the public. No ticket or RSVP is required. Click here for information about our screening policies.