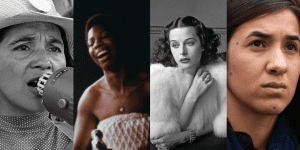 This March, Utah Film Center's curated film exhibition features stories of diverse women across the globe. Our program includes profiles of innovators, singers, and civil rights champions and also showcases remarkable stories in the everyday lives of women.
We're excited to bring Dolores Huerta to Salt Lake City for our Through the Lens screening of Dolores (March 14 at the Rose Wagner) in partnership with KUER 90.1, RadioWest, and The Tanner Center for Nonviolent Human Rights. She is a truly intersectional activist, changing America's laws and culture on landmark issues of labor, migration, racism, and women's rights. Along with films like Chavela, What Happened, Miss Simone?, Bombshell: The Hedy Lamarr Story, and On Her Shoulders, Dolores brings us into the life of a woman who's shaped culture and history.
For our annual Peek Award (March 22 at the Rose Wagner), we're honoring the filmmakers behind the Sundance award-winning Dina and inviting out the film's powerfully candid lead, Dina Buno. And 306 Hollywood (March 8 at The City Library) is a memorial like no other: a magical examination of a life via the filmmakers' recently-deceased grandmother's worldly possessions.
Hope you can join us for this exciting month of free films.

Our year-round film screenings are free and open to the public. No ticket or RSVP is required. Click here for information about our screening policies.