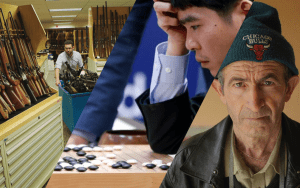 In the last two months, our programming has featured films by and about women in honor of Women's History Month, and films from black filmmakers and stories about the black community as part of Black History Month. This month our program further demonstrates how eclectic documentary films can be and why the form is such a great medium for sharing stories and ideas.
From hot-button topics that demand solutions, Under the Gun (The City Library, 4/3), to an examination of how people are shaped by their passions via the unlikely subject of competitive llama training and showing subculture in the US, Llama Nation (Rose Wagner, 4/5), this month features films that highlight stories that touch on larger themes. Five Seasons: The Gardens of Piet Oudolf (The City Library, 4/24), AlphaGo (The City Library, 4/10), and Faces Places (UMFA, 4/25) are all remarkable looks at creativity, humanity, and the cycle of life, through stories of sculpting natural beauty, artificial intelligence, and photographing strangers, respectively.
Additionally, one of our programming team's favorite films from the 2017 Sundance Film Festival, The Good Postman (The City Library, 4/17), returns to Utah. The film centers around a mayoral campaign in a tiny village on the Turkish/Bulgarian border that highlights an incredible story about opportunity, morality, and being part of a community in this global world.
We hope you'll join us for these great films.

Our year-round film screenings are free and open to the public. No ticket or RSVP is required. Click here for information about our screening policies.