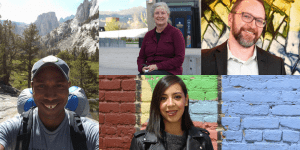 At the core of Utah Film Center's vision of "a community that is inclusive and informed" are our members. Members actively engage in community dialogues through our nearly 200 annual free film screenings, welcome visiting filmmakers during our pre-film receptions, advocate for our media education programs that benefit 21,000 Utah students each year, and are the first to know about our upcoming events.
As we kick off our annual May Member Month drive this month, we are excited to highlight the stories of our beloved members who remind us why film is important in our community and the positive impact our programming has had on them over the years. Follow us on Facebook, Twitter, and Instagram as we share their inspiring stories throughout May.
If you are inspired by our members' stories and want to be part of our film-loving family, then now is the time to become a member or renew your membership! For a limited time, new members will receive a Utah Film Center Nalgene water bottle. 😀
Member benefits include:
Priority seating at evening Salt Lake City screenings
Pre-film receptions
Invitations to private advance film screenings
Free tickets to our festivals
Monthly program guides mailed to you
All of this is yours starting at just $60 (or $5 a month). To join or renew visit utahfilmcenter.org/membership.
With your support, we will continue to inspire and engage audiences!
–Utah Film Center staff