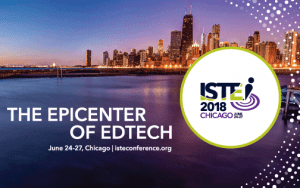 A few members of Utah Film Center's Media Education team hit the Chicago metropolis last week to attend the massive ISTE technology and education conference. The conference food and internet were both equally terrible and the air conditioning felt Nordic, but we left with some great takeaways we thought we'd share. If you want to know more about how to best crowdfund your classroom, the latest from Google, or how to beat fake news…. read on.
Donorschoose.org
You may be familiar with this site where teachers only (no principals or administrators) post classroom projects and get funded (and with a 70% success rate for asks between $200 and $400). There are a few teachers leading the charge and in their effort to increase users have a Facebook page called Caring Classrooms that keeps you informed regarding matching funds opportunities and other tips to put some flamboyance into your classroom.
QUICK TIPS:
Start with a "standard" project and shop for matching funds (the projects with matching funds are more attractive to funders)
You can ask for professional development funding for conferences for example. The women on the panel were subsidized to attend ISTE. The conference registration fee was paid for; $100 per night towards their hotel; $30 per day for food; $100 towards flight/ transportation.
Always have a project posted- there are times where people and/or companies "flash fund" a bunch of projects and you never know when. Having a project posted can prove to be auspicious.
If you start an account and post your first project you might want friends and family to consider funding it – make sure they use the access code RIPPLE when they donate and their donation will be matched (good for the first project only).
On another note, (get it!?) if you are a music teacher check out a Facebook page called Music Makes Our Students Smarter… great funding there!
Google Features – New & Must-Knows
RESOURCES:
Google Field Trip

Field Trip runs in the background on your phone. When you get close to something interesting, it pops up a card with details about the location. No click is required. If you have a headset or bluetooth connected, it can even read the info to you.  Field Trip can help you learn about everything from local history to the latest and best places to shop, eat, and have fun. You select the local feeds you like and the information pops up on your phone automatically, as you walk next to those places.

Google Tilt Brush
Google Arts and Culture
Google Poly
Science Journal

Amazing app- IOS and Chromebook compatible that turns your device into something that measures light, sound, and movement for example. Students can also explore over 70 hands-on science activities from education experts and SO much more.

Google photos
Google Keep

Keep offers a variety of tools for taking notes, including text, lists, images, and audio. Users can set reminders, which are integrated with Google Now. Text from images can be extracted using optical character recognition, and voice recordings can be transcribed.

Google Voice
Google Stream View (to take 360-degree images)
TO PLAY: First, a throwback to the 70s: search Atari Breakout and see what happens
Quick Draw!: You draw and the program tries to decide what you are drawing- so fun!
Auto Draw: You start the drawing and the program guesses what you are trying to draw and gives you an auto version
Mystery Animal: You ask a series of questions like, "Do you have a tail?" to try to guess the "mystery animal."
Smarty Pins: You answer a question in the science and geography; entertainment; history; etc. category and place your pin on the correct place on the map where it happened.
Addressing Fake News and New Propaganda
In a session that focused on understanding how to recognize new forms of propaganda and identify fake news, the facilitator shared a few resources to negotiate fake news, that included a few games that you can play in your classroom to create awareness and initiate conversations:
RESOURCES:
GAMES:
Factitious: Factitious is the simplest of the bunch. It shows you a news article with a hidden source and asks you to guess whether it's real or fake. After making your decision, the game will give a short pop-up highlighting aspect of the article that hint to its validity or lack thereof (like the source or the fact that no names were mentioned).
Bad News: Where Factitious treats you as a reader, Bad News takes you behind the scenes and into the mind of a fake news distributor. The quick game is narrated by a cheeky third-party narrator who encourages you to forget your morals and profit off fear. The purpose is to gain the largest online following by choosing which multiple choice options that will incite the most anger. (Educator Guide link  aimed at ages 14+)
Fake it To Make It: Fake It to Make It also takes you behind the scenes at a fake news factory, but it offers a far more complex — and stressful — gameplay. In Fake It, you become the founder of a fake news site, in control of everything from revenue model to articles to social media presence. You can copy articles or write your own, finding a neat balance between believability and drama. Your objective is to make the most money. All that matters? Leave your ethics at the door.
Sincerely,
Suzi Montgomery
Utah Film Center Media Education Director