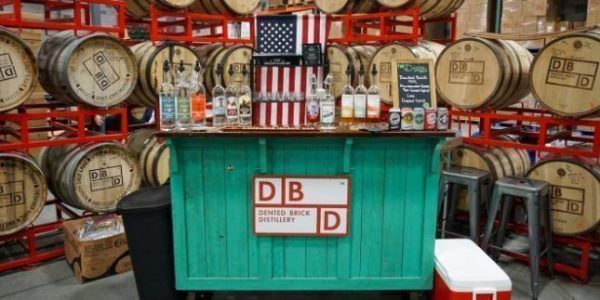 Utah Film Center recently joined again with Dented Brick Distillery, the official distillery of Damn These Heels 2019, to host a small Supporter Celebration at their facility. See the photos here.
As a grain-to-glass distillery, Dented Brick controls the full craft distilling process from using local grains to distilling with water sourced from their own on-site artesian wells. Dented Brick was a natural partner for Utah Film Center from their founding.
 "Let's build a world class distillery in Salt Lake City…we may not make a dime, but at least we'll be pursuing our passions and drinking the finest hand-crafted spirits we could make with our own two hands. And if we do make some money, we can use the profits to influence our community by supporting non-profit organizations that have goals in line with our own." – Marc Chrisensen, Dented Brick founder and CEO
Having the opportunity to connect with a few members of our Film Center family while enjoying one of our sponsor's delicious craft libations made for a memorable night. Want to try the night's signature cocktail crafted by local bartender Skyler Bush? We got the recipe!
THE DIVINE:
1.5oz Dented Brick Great Basin Bristlecone Gin
.5oz Gunpowder green tea simple syrup 
.5oz lime juice
.5oz orgeat
Shaken on ice
To learn more about Utah's distilling history, sample a flight of spirits, tour the distillery, or even adopt a barrel of whiskey, visit dentedbrick.com.