As part of their 2020 From the Collection section, Sundance Film Festival will be screening the 2004 documentary Born Into Brothels, Academy Award winner for Best Documentary Feature Film. The Executive Producer was Utah Film Center co-founder Geralyn White Dreyfous.
In March 2016, fire destroyed the Utah Film Center offices. Elements of the original film were being stored there, in the basement where the fire started. But thanks to Sundance Institute, UCLA Film & Television Archive, and the Academy Film Archive branch of the Academy of Motion Picture Arts and Sciences, the film has been digitally restored. This new version will screen one time only, Thursday January 30 at the Egyptian Theatre in Park City.

---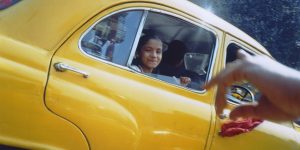 BORN INTO BROTHELS
USA | 2004
Directors and Screenwriters: Zana Briski, Ross Kauffman
Executive Producer: Geralyn White Dreyfous
Zana Briski, a professional photographer living in and documenting the brothels of Calcutta, is inspired by the children's curiosity with her camera and gives them photography lessons and cameras of their own, empowering them to document and share their world.
Click here for showtime and more information.
---