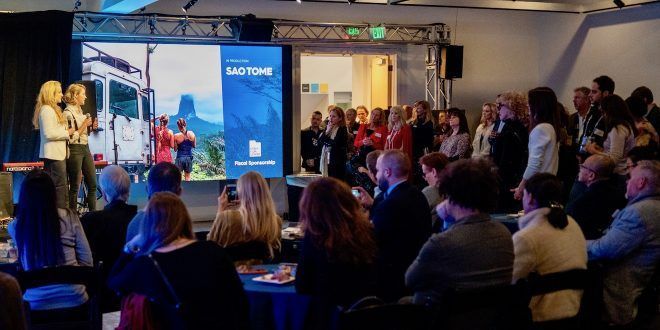 You know the films, but do you know how they get made? On Friday, Utah Film Center celebrated our eight fiscally sponsored films and one new media project featured in the Sundance Film Festival. Our Gala gave over 200 guests the opportunity to hear from Sundance filmmakers, connect with Utah Film Center staff, and engage with our programming. Musical performances by Emmanuel Kelly, Gordon Vetas, and Lounge 40 made for a remarkable evening. See the photos here!
Utah Film Center Executive Director Patrick Hubley took a moment to recognize the work of our Artist Support Manager Sarah Mohr. Our Fiscal Sponsorship program managed by Sarah gives filmmakers access to foundations, grantmakers, and large donors who require applicants to be 501(c)(3) nonprofits. Obtaining this status is time-consuming and difficult for many independent film projects already facing labor constraints. Sarah works year-round bridging the gap between filmmakers and film supporters to make these films possible. "Sarah Mohr is on it. Sarah is pretty awesome." – Michael Dweck, Producer of The Truffle Hunters
Our Fiscal Sponsorship program, now in its 10th year, is the brainchild of innovative filmmaker and Utah Film Center founder Geralyn Dreyfous. We are proud of the contribution this program has made this year to films like Feels Good Man and Us Kids.
If you believe in the stories told by any of our fiscally sponsored films and would like to make a 100% tax-deductible contribution to a specific film, please contact Sarah Mohr, sarahmohr@utahfilmcenter.org, 801-746-7000. Donations to our general artist support services can be made here.