[insert page='28346′ display='content']
Recent Newbery honoree and Artist Foundry member Christian McKay Heidicker will help keep your kids (and you) entertained during this time of social distancing and self-quarantine with his "Virtual Author Visit" for his award-winning book Scary Stories for Young Foxes.
Welcome to my den, everyone.

Here's a Virtual Author Visit to keep you entertained during the quarantine. The eight videos run just over an hour and are recommended for any age (but are best suited for grades 2 through 7).
Visit Christian's website to watch the complete 8 part "Virtual Author Visit" series and learn about his other books.
ABOUT THE BOOK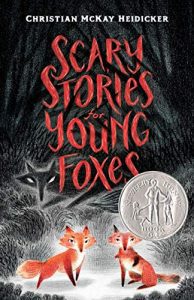 Scary Stories for Young Foxes
"Clever and harrowing." —The Wall Street Journal
"Into the finest tradition of storytelling steps Christian McKay Heidicker with these highly original, bone-chilling, and ultimately heart-warming stories. All that's needed is a blazing campfire and a delicious plate of peaches and centipedes." —Kathi Appelt, Newbery Award honoree and National Book Award finalist
The haunted season has arrived in the Antler Wood.
No fox kit is safe.
When Mia and Uly are separated from their litters, they stumble into a dangerous world full of monsters. In order to find a den to call home, they must venture through field, swamp, and forest, facing unspeakable things that dwell in the darkness: a zombie who hungers for their flesh, a witch who tries to steal their skins, a ghost who hunts them through the snow, and other things too scary to mention here.
Featuring eight interconnected stories and sixteen hauntingly beautiful illustrations, Scary Stories for Young Foxes contains all the adventure and thrills you'll love to listen to beside a campfire or when the moon is bright.
Fans of Neil Gaiman, Jonathan Auxier, and R. L. Stine have found their next favorite book.