While marine biologist Abby Jackson is out on a boat researching the heart-breaking destruction of coral reefs, she's called back home with the news that her mother has fallen ill. Abby begins reflecting on her childhood and the powerful influence her mother, Dora, had on her worldview. Through flashbacks, we meet teenage Abby, who is taking an increasing interest in protecting the bay where they live, driven by a bond she has formed with the wild blue groper who resides there.
FREE STUDY GUIDE! Explore more about Blueback and marine biology with this companion study guide! This guide features activities and how you can have a positive impact on the environment through activism. Download study guide here.
Preceded by the locally produced and locally made short film Namesake
Water levels in Great Salt Lake have shrunk to record lows. The biologist Bonnie Baxter says we're seeing an ecosystem collapse before our eyes—as microbialites are beached, brine flies and shrimp die off, and birds migrate elsewhere. Toxic dust released from the dry lakebed endangers people, too. Meanwhile Bonnie studies the lake and tracks its decline.
Event Details
Time
Don't forget to check-in upon arrival to be entered into a free prize drawing for a chance to win Utah Film Center merch!

Seating is first come, first served on the grass starting at

8pm

The movie will begin at dusk
Other
Feel free to bring your family, friends, food and drinks

Blankets and lawn chairs welcome

Dogs are allowed as long as they are leashed
Location
Outdoor Film Series takes place on the east side of Liberty Park, just north of the Chase Home Museum near the middle of the park. The Summer Film Series logo on the map below highlights the screening location or click here to see it on Google Maps.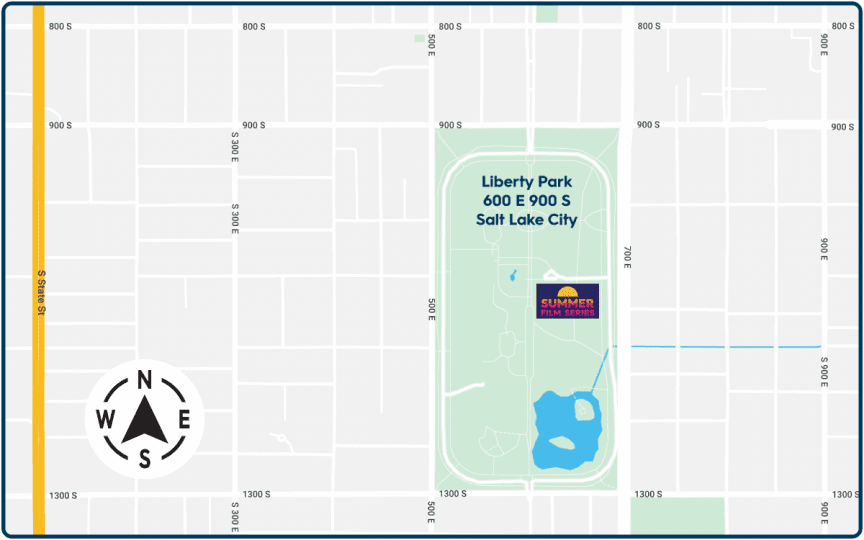 ---
Utah Film Center's Outdoor Summer Film Series is proudly presented with support by Salt Lake City Government.