Follow the Drinking Gourd is a feature documentary about the Black food justice movement. Family-friendly, funny, and moving, this 60-minute film connects the legacy of slavery, capitalism, and climate change to our fight for food security.
The film features:
Leah Penniman – author of "Farming While Black"
Naima Penniman – of the award-winning, spoken word duo, Climbing Poetree, recently featured on TED
Wanda Stewart – urban farmer in Berkeley, CA
Will Scott – rural farmer in Fresno, CA
Carl Anthony – environmentalist, founder of Urban Habitat
Rahanna Bisseret-Martinez – former Top Chef Junior finalist
---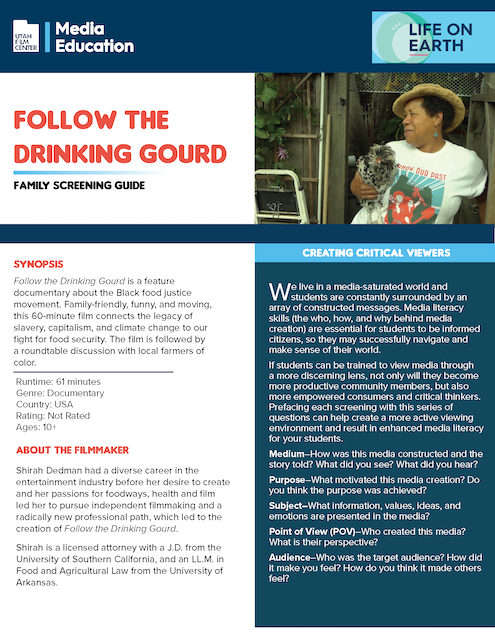 Download the Family Screening Guide Created by Utah Film Center's Education Department
Utah Film Center's Education Department is supporting this film as a learning opportunity for the whole family. To that end, they are offering this family screening guide. Our team believes if younger audiences can be trained to view media through a more discerning lens, not only will they become more productive community members, but also more empowered consumers and critical thinkers. If you have a younger viewer in the home, we hope your family will enjoy the film and the study guide together.
---
Black, Bold & Brilliant is proudly presented by Utah Film Center with support from KRCL and the Salt Lake ACE Fund.