Year 3 Lineup for Audiences Showcases Adventure, Friendship, Strong Female Characters and Global Stories
Park City/Salt Lake City, UT–Utah Film Center has collaborated with Sundance Institute for the third year to program the "Sundance Kids" section of the 2016 Sundance Film Festival, being held in Park City, Salt Lake City, Ogden and Sundance, Utah, from January 21-January 31.
Due to the successes of past Sundance Kids sections and Utah Film Center's Tumbleweeds Film Festivals, Utah Film Center and Sundance Institute have once again joined forces to curate this category at the Festival that appeals to all generations. The collaboration between the two organizations continues their missions to foster a diverse community, both of filmmakers and audiences. This year's section is more varied than in the past, including an animated film, a live action Dutch film, and for the first time, a documentary.
Patrick Hubley, artistic director of the Utah Film Center said, "We are delighted with the continuing success of the Sundance Kids program and honored to continue our unique partnership with the Sundance Film Festival to present films for young audiences."
Trevor Groth, Director of Programming for the Sundance Film Festival, said, "This year's Sundance Kids lineup presents a range of stories from around the globe that provide a richness and quality of story that will surprise and delight audiences of all ages. We are pleased to offer these independent films in collaboration with Utah Film Center."
2016 SUNDANCE FILM FESTIVAL "SUNDANCE KIDS" LINEUP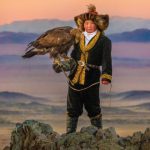 The Eagle Huntress
Directed by Otto Bell
101 min | 2016 | USA
Presented in Kazakh with English subtitles.
Recommended for ages 12+
Step aside, Daenerys and Katniss—Aisholpan is a real-life role model on an epic journey in a faraway world. Follow this 13-year-old nomadic Mongolian girl as she battles to become the first female to hunt with a golden eagle in 2,000 years of male- dominated history. World Premiere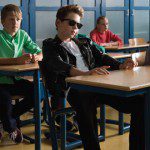 Little Gangster
Directed by Arne Toonen
102 min | 2015 | Netherlands
Cast: Thor Braun, Henry Van Loon, Rene Van 'T Hof, Meral Polat, Fedja Van Huêt, Maas Bronkhuyzen.
Presented in Dutch with English subtitles.
Recommended for ages 10+
Rik Boskamp wants a life where he's not constantly bullied. When he and his family move, the people in their new town think his father is a Mafia boss, and everybody treats them with respect—until a bully from Rikkie's past turns up. How long can he keep up his lie? North American Premiere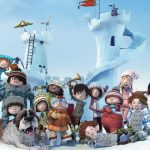 Snowtime!
Directed by Jean-François Pouliot, François Brisso
80 min | 2015 | Canada
Cast: Sandra Oh, Ross Lynch, Angela Gallupo, Lucinda Davis, Don Shepherd, Sonja Ball.
Recommended for all ages
To amuse themselves during their winter break from school, the kids in a small village have a massive snowball fight. But what starts out as pure youthful fun and enthusiasm deteriorates into a more serious conflict as the children learn the role that love and friendship play in their lives. US Premiere
For more information and showtimes visit www.sundance.org/festival
Utah Film Center
Utah Film Center brings the world of film to local audiences through free community screenings and discussions, outreach programs, and visiting artists and professionals. Emphasizing social content and artistic excellence, we present the best documentary, independent, and dramatic cinema year-round. By collaborating with various educational and community organizations, Utah Film Center promotes a diversity of ideas, provides forums for underrepresented groups, and develops new audiences for film throughout Utah.
Annually, Utah Film Center presents the Tumbleweeds Film Festival. Utah's premiere film festival for children and youth and the only festival of its kind in the Intermountain West, Tumbleweeds is committed to presenting inspiring and engaging films with high production and storytelling values, specifically curated for a youth audience.
Utah Film Center is generously sponsored by the George S. and Dolores Doré Eccles Foundation, Salt Lake County Zoo, Arts & Parks Program, and Zions Bank.
For more information call (801) 746-7000 or visit https://www.utahfilmcenter.org/.
The Sundance Film Festival®

The Sundance Film Festival has introduced global audiences to some of the most groundbreaking films of the past three decades, including Boyhood, Beasts of the Southern Wild, Fruitvale Station, Whiplash, Brooklyn, Twenty Feet from Stardom, Life Itself, The Cove, The End of the Tour, Blackfish, Me and Earl and the Dying Girl, Super Size Me, Dope, Little Miss Sunshine, sex, lies, and videotape, Reservoir Dogs, Hedwig and the Angry Inch, An Inconvenient Truth, Precious and Napoleon Dynamite. The New Frontier initiative, celebrating its 10th Anniversary in 2016, has showcased groundbreaking media works by artists and creative technologists including Chris Milk, Doug Aitken, Palmer Luckey, Klip Collective and Nonny de la Peña. The Festival is a program of the non-profit Sundance Institute®. 2016 Festival sponsors to date include: Presenting Sponsors – Hewlett Packard Enterprise, Acura, SundanceTV, Chase Sapphire Preferred®, and Canada Goose; Leadership Sponsors – Adobe, Airbnb, DIRECTV, Tequila Don JulioTM, Samsung, and YouTube; Sustaining Sponsors – BROOKSIDE Chocolate, Canon U.S.A., Inc., Dropbox, GEICO, The Hollywood Reporter, Kickstarter, LUNA Bar/Clif Bar & Company, Omnicom, and Stella Artois®. Sundance Institute recognizes critical support from the Utah Governor's Office of Economic Development, and the State of Utah as Festival Host State. The support of these organizations helps offset the Festival's costs and sustain the Institute's year-round programs for independent artists. http://www.sundance.org/festival
Sundance Institute
Founded in 1981 by Robert Redford, Sundance Institute is a nonprofit organization that provides and preserves the space for artists in film, theatre, and new media to create and thrive. The Institute's signature Labs, granting, and mentorship programs, dedicated to developing new work, take place throughout the year in the U.S. and internationally. The Sundance Film Festival and other public programs connect audiences to artists in igniting new ideas, discovering original voices, and building a community dedicated to independent storytelling. Sundance Institute has supported such projects as Beasts of the Southern Wild, Fruitvale Station, Sin Nombre, The Invisible War, The Square, Dirty Wars, Spring Awakening, A Gentleman's Guide to Love and Murder and Fun Home. Join Sundance Institute on Facebook, Instagram, Twitter and YouTube.
###
Press images for Sundance Kids films can be accessed at www.sundance.org/images or image.net (registration free, but required).