Utah Film Center's 8th annual Tumbleweeds Film Festival for Children and Youth takes place March 1–3, 2019 at Library Square in downtown Salt Lake City, presented in partnership with The City Library and The Leonardo. Tumbleweeds features films from around the world and provides culturally-enriching, curated film, and media arts workshops for younger audiences. Founded in 2011, Tumbleweeds is the only film festival for children in the Intermountain West and has quickly become one of Utah's premiere events.
Who goes to Tumbleweeds?
Kids of all ages! Films are programmed with an eye toward introducing young audiences to the joys of international and independent cinema. Parents and adults will enjoy films that have interesting universal themes and messages. Plus the Clubhouse is a great way to learn and experience interactive media with your child.

 How We Handle Subtitles
Foreign language screenings are presented with English subtitles that will be read over listening devices by a "subtitle reader" for audience members who prefer an English dialogue track.
Tickets and Passes
Tickets and passes are now on sale online or you can purchase either in person at the Festival. We encourage online purchasing, as some films or workshops could sell out. All prices include processing fees, no hidden fees.
Passes are good for either 6 or 10 tickets, depending on the pass purchased, and you can mix and match tickets to multiple films or use your allotment for multiple tickets to one film.
Want Free Tickets? Volunteer
Tumbleweeds is a fun-filled event, that is also a big undertaking that relies on volunteers to make it a success. In exchange for volunteering you can receive tickets, passes, and even Film Center memberships.
Visit our volunteer page to learn about available shifts and the incentives available.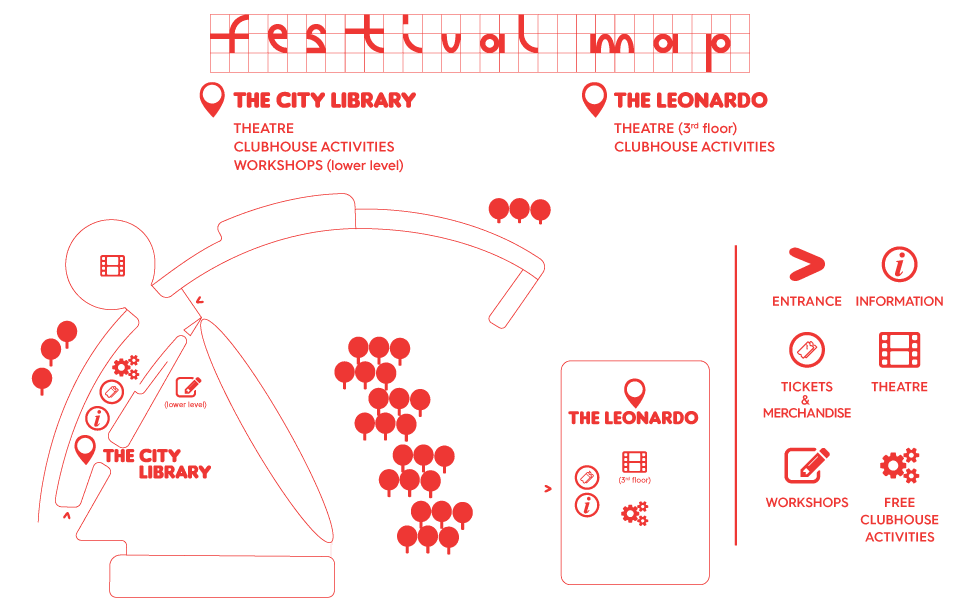 Workshops give kids the opportunity to connect directly with experts in the virtual reality, sound effects, filmmaking, and film makeup fields to deepen their appreciation for the craft and inspire them to dig deeper into the elements of a story.
Tickets for workshops are $10 each and open to patrons up to 18 years old. Parents and chaperones may attend with a minor participating in the workshops at no cost.
Space is limited, so purchase your tickets today!
10 Ticket Festival passes, good for your choice of 10 films and/or workshops are now on sale for only $60
Click here to purchase your Festival pass.
The Tumbleweeds Clubhouse is free for all Library Square patrons and features over 15 craft and technology activities in The City Library's Urban Room (main lobby) and The Leonardo's Entrance Atrium.
The Clubhouse is open Saturday and Sunday 10am to 5pm.
Clubhouse Activities @ The City Library
Clubhouse Activities @ The Leonardo
Free activities for Teachers and Classrooms
Teacher Professional Development Workshops
Film still from Volume 2 film Racing Extinction
Film Spark Workshop
Join us for a free 3-hour workshop! Utah Film Center instructors will provide training on how to integrate documentary film screenings into the classroom. Workshop includes watching a Film Spark film, and learning best practices for using the accompanying curriculum. Upon completion, each teacher team will receive a Film Spark Volume 2, which includes 12 STEM-related documentaries and standards-linked study guides.
Workshop is open to educators grades 6-12 and is fully funded (no cost to participating teachers). Professional development relicensure credit is available to qualifying participants. Not in the Salt Lake area, click here to see other upcoming Film Spark workshops.
---
Salt Lake City
The City Library
210 E 400 S
---
2019 Tumbleweeds Festival Field Trips
Monday, March 4 through Wednesday, March 6
The City Library in downtown Salt Lake City and at Adobe's Utah Campus in Lehi
Utah Film Center is pleased to offer FREE Tumbleweeds Festival Field Trips to grades 1-12 as part of our Tumbleweeds Film Festival for Children and Youth. This year we are excited to announce 3 films and the addition of a Utah County venue option. There will be a discussion after each screening and all participating teachers will receive a study guide packet.
Underwriting for bus/transportation support is available, email mwalker [at] utahfilmcenter.org for information.
---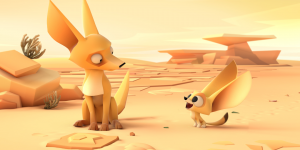 Animated Shorts Program
with pre-film presentation and post-film discussion,
both with a professional animator.
Program runtime (film + discussion) is 75 minutes
---
A selection of animated films from around the world programmed specifically for youth film-lovers.
Lehi
Adobe's Utah Campus
3900 Adobe Way
---
Salt Lake City
The City Library
210 E 400 S
---

Supa Modo
with post-film discussion.
Program runtime (film + discussion) is 100 minutes

Reader and Headsets will be provided, see below for details.
---
Jo is a young girl living in a small village in Kenya. It's her dream to become a super-heroine, but unfortunately these ambitions are hindered by her impending terminal illness. As an attempt to make her desires possible the whole village is plotting a genius plan with the goal to make her wish come true.

Subtitles
To enhance our young viewers' appreciation of foreign-language movies, we have readers read subtitles aloud. We play the readings through individual headsets, to allow those who do not require the service to experience the film without hearing the reader.
Salt Lake City
The City Library
210 E 400 S
---

Science Fair
with post-film discussion.
Program runtime (film + discussion) is 110 minutes.
---
Nine high school students from around the globe navigate rivalries, setbacks, and of course, hormones, on their journey to compete at ISEF – the International Science and Engineering Fair. Facing off against 1,700 of the smartest, quirkiest teens from 78 different countries, only one will be named Best in Fair.
Looking for a full day field trip? Scroll down to see our Film + Workshop option for this film
Lehi
Adobe's Utah Campus
3900 Adobe Way
---
Salt Lake City
The City Library
210 E 400 S
---
Film + Workshop
Full Day Field Trip Option: 10:00am-2:30pm
Spend the day on Library Square. A screening of Science Fair starts that day at 10am in the The City Library auditorium, followed by a Q&A with youth who have competed in ISEF. Following the screening there will be science-related workshops and activities led by our professional film artist team. Participating teachers and students will be asked to bring a bag lunch.
Salt Lake City
The City Library
210 E 400 S
---
About the Festival
Utah Film Center's Tumbleweeds Film Festival is an annual film festival for children and youth, ages 4 and up, providing opportunities for film lovers of all ages to engage their creative spirit, and bridge cultures by experiencing films whose stories transcend geographic, cultural, and political boundaries. Past Festival films include A Monster in Paris, The Eagle Huntress, Oddball, Long Way North (Tout en haut du monde), Eleanor's Secret, Felix, Chandani the Elephant Whisperer, My Friend Raffi, I Learn America, Rainbow, and Ernest & Celestine.
TUMBLEWEEDS FILM FESTIVAL IS MADE POSSIBLE BY THE SUPPORT OF